Skip to content
UChicago Medicine receives $3.8 million, 5-year grant to study stimulation and sedation in excessive drinkers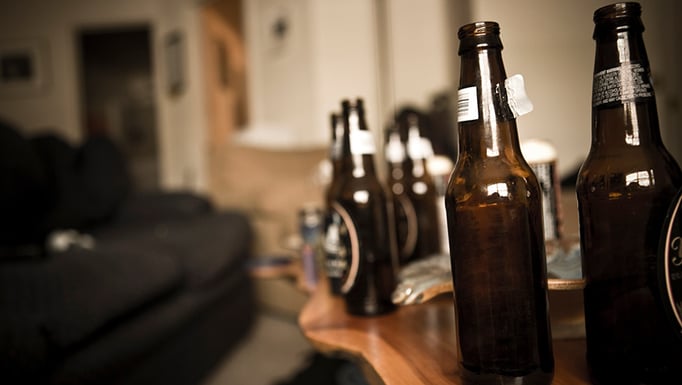 A leading clinical and research psychologist at the University of Chicago Medicine has been awarded a $3.8 million grant from the National Institute of Alcohol Abuse and Alcoholism (NIAAA) — a division of the National Institutes of Health — to understand alcohol responses in individuals who have problems controlling their drinking.
Andrea King, PhD
, professor of psychiatry and director of the Clinical Addictions Research Laboratory, and her team will focus on how people who regularly drink to intoxication respond to alcohol and other commonly used substances compared with social drinkers.
"Understanding the factors that contribute to the development and persistence of excessive alcohol consumption is a crucial first step toward better education, prevention and intervention strategies," said King.
The adverse effects of hazardous drinking are widespread in society, she added. "This project is designed to learn more about factors that contribute to excessive alcohol consumption over several decades."
Alcohol use accounts for 6.8 percent of age-standardized deaths in men and 2.2 percent in women, with a disproportionate effect on young people, according to a recent
review article
in the
New England Journal of Medicine
. The overall costs associated with alcohol use represent "more than 1 percent of the gross national product in high- and middle-income countries, with the costs of social harm (e.g., violence and road accidents) being far greater than health costs alone. Except for tobacco, alcohol accounts for a higher burden of disease than any other drug."
The Chicago Social Drinking Project
The Chicago Social Drinking Project (
CSDP
) is designed to evaluate the role of subjective and physiologic responses to alcohol and how they affect the maintenance and escalation of excessive drinking in adults. The program, which has been funded by the NIAAA for 15 years, integrates alcohol challenges in the laboratory with long-term assessment of drinking and related behaviors. The goal is to determine whether positive or negative reinforcement of alcohol, as well as stimulants and sedatives, can predict future drinking problems, uncover symptoms of alcohol use disorder and help those who struggle with excessive alcohol use.
King's work has shown that heightened sensitivity to alcohol stimulation and other pleasurable effects are common in young adults who are heavy drinkers, but not in their lighter-drinking counterparts. "For heavy drinkers," she notes, "this response is like having an accelerator pedal but no brakes."
It may explain why alcohol intake can quickly reach excessive levels in those people. This early pattern often predicts how their drinking habits might progress as they age. "It could help us prevent the shift to excessive alcohol use years later," King said.
Contrary to prevailing models of alcohol addiction, she added, "our findings show a pervasive, sustained sensitivity to alcohol stimulation in young adults who drink too much." With support from this grant, "we intend to challenge existing paradigms, carefully monitor our high-retention cohorts, and enroll new volunteers to expand the scope of our work."
Prevention and early identification
The NIAAA grant supports three distinct goals. First, the team will conduct 10-15 year follow-ups of alcohol use in existing cohorts of light and heavy drinkers as they transition from young to middle adulthood. During this phase, the team will re-examine how these individuals responded to alcohol when first tested more than a decade ago to determine which volunteers drifted into alcoholism over time or matured out of heavy drinking.
Second, the researchers will enroll two new cohorts — historically excluded from alcohol challenge studies — to provide more robust tests of their response to excessive drinking. These cohorts will include drinkers not seeking treatment who are young adult heavy drinkers with affective disorder as well as middle-aged and older chronic heavy drinkers.
The study leaders will compare these groups against control groups of regular drinkers with no history of alcohol problems. Their goal is to determine whether their response to alcohol is characterized primarily by stimulation and reward, reward insensitivity, or anxiety and withdrawal. Her team will also compare groups on their response to alcohol and other substances on levels of the stress hormone cortisol as well as performance on eye tracking, cognitive and motor tasks.
"This unique integration of controlled laboratory studies of human alcohol use with long-term assessment of drinking behaviors and their consequences should, over time, provide critical tests of the prospective role of stimulating, rewarding and sedating alcohol responses to escalation, maintenance or even avoidance of excessive drinking," King said.
This study, now entering its 16th year, is the only one of its kind to examine alcohol responses across the continuum from light, to moderate, to heavy drinking and to determine which of these responses best predicts future drinking problems. "We think our findings could have a significant impact on prevention and early identification of those at risk," King said. "We hope this will help decrease the burden of problem drinking in society."
Health and Wellness Related Articles