Skip to content
UChicago Medicine's Efforts and Response: COVID-19 Pandemic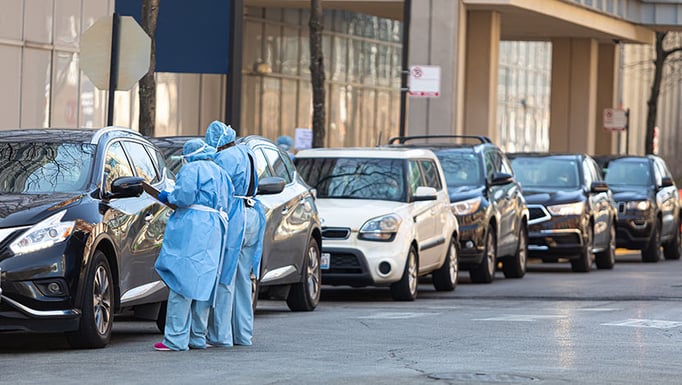 Since the onset of the COVID-19 crisis in Chicago, the University of Chicago Medicine has been focused on providing world-class care to our patients and our community in the context of this pandemic. The collective efforts of everyone who makes up our campus community represent an enormous body of work — from the number of admissions, ambulatory/telehealth visits and accepted patient transfers to our onsite rapid-testing capability and the innovative approaches we developed to care and treat COVID-19 patients.
Our teams' agility during a global health crisis, commitment to excellence, innovation, and thought leadership reflect the history and culture of the University of Chicago, while their hard work, dedication and focus on our patients and the South Side speak to their spirit.
While we undoubtedly should recognize these achievements and efforts, there is much more to do, particularly around the issues of health disparities and diversity and inclusion. Please know that we remain committed to this work and that you will be hearing more about our efforts in the coming months.
Below you will find highlights of the care we delivered and our research and innovation efforts related to COVID-19.
Our organization has distinguished itself because of the way in which all of you have worked together in a very collaborative manner during a very challenging time. We are honored to be leading an organization composed of such impressive teams of people. Thank you for your contributions and your commitment to all of our missions.
*****
BACKGROUND AND GUIDING PRINCIPLES
The South Side of Chicago is a culturally rich home to about 800,000 people. From a health standpoint, this community has a very high prevalence of serious disease (diabetes, hypertension, heart disease, asthma, cancer and others) as well as a very high rate of intentional violence. Poverty is also prevalent, and Medicaid is the funding source for health insurance for more than 50% of South Side residents. The University of Chicago Medicine is the healthcare provider of choice for our community, particularly for complex and serious disease.
We regularly operate at capacity and are the largest provider of Medicaid services in Illinois for both inpatient and outpatient care, serving many times more managed Medicaid patients than any other South Side hospital and nearly twice as many Medicaid patients as Northwestern and 25% more than Rush. In FY2019, we had more than 81,000 patient days from Illinois Medicaid and Managed Care Organizations, a 66% increase from FY2014.
Since the beginning of the pandemic, UChicago Medicine had to manage inpatient and ICU bed and ventilator capacity very strategically to be able to maintain access to outstanding care not just for patients with COVID-19 but also to continue to meet the needs of the community for other urgent conditions, including trauma care. Our organization remains committed to providing high-quality, leading-edge care to patients and the community in a safe environment.
HIGHLIGHTS OF CARE DELIVERY IN 2020
Hospital Operations and Bed Capacity Management
In order to plan for the anticipated increase in COVID-19 patients, the Hospital Incident Command System (HICS) was activated in late January and has maintained operational control of the University of Chicago Medical Center (UCMC) since early March. The driving goals included:
Providing outstanding care to patients with COVID-19
Continuing to provide outstanding care to patients with acute medical and surgical conditions including those that required ICU admission
Maintaining access to our adult and pediatric emergency departments, as well as our adult and pediatric trauma centers and the burn unit
Ensuring sufficient ICU capacity to serve these emergency and trauma units.
Management of bed capacity was done in close conjunction with state and city health departments, and daily reports of bed, ICU and ventilator capacity were provided as required. All hospitals in Illinois were required to maintain 20% surge capacity to accommodate increases in COVID 19 admissions. In addition, there was close daily coordination with other Chicago-area hospitals, particularly Northwestern and Rush.
We are gratified to report that through this challenging time we were able to:
Care for among the largest numbers of COVID patients in the state.
Accommodate the substantial increase in trauma volume without a need for trauma diversion.
Maintain surge capacity required by the city and state.
Ensure we did not run out of beds or ventilators.
Patient Transfers
From March through December, UCMC accepted 4,172 transfers. Of those, 2,636 were from another hospital or healthcare facility, 1,011 from a clinic or physician's office, and 555 from a skilled nursing facility. Of these transfers, 362 were COVID-positive patients.
COVID Patient Volumes and Outcomes
When compared to published data these outcomes speak to the high quality of care that COVID-19 patients received including lower length-of-stay (LOS) and low proportion of patients in the ICU and requiring mechanical ventilation. In many cities, the mortality rate is significantly higher in African Americans than in other racial and ethnic groups. At UCMC, there were no significant racial differences in any of these metrics. From March through December:
We had 26,861 total inpatient admissions. Of those, 2,001 were COVID-positive admissions. At Ingalls, there were 10,893 inpatient admissions, including 986 who were COVID-positive.
Approximately 75% of these patients came from the 12 South Side ZIP codes we serve, and 85% are African American.
Average LOS for those who have been discharged is 8.4 days, and mortality rate was 7.9% (a decline from the 9% rate reported in early July).
522 (27.2%) of those admitted had an ICU stay, and 224 of those in the ICU required mechanical ventilation.
COVID-19 Research and Innovation
We believe that a critical element in these gratifying outcomes relates to the fact that our patients benefitted — and will continue to benefit — from a number of innovative treatments and approaches, as the scientific community searched to better understand the disease. These efforts contributed to the roughly $390 million in externally funded research grants in FY2020, representing a 10% expansion over the previous fiscal year.
March-June
A team of surgery faculty developed a scoring system to help prioritize surgeries and other procedures. The process, called Medically Necessary Time-Sensitive (MeNTS) Prioritization, was published by the Journal of the American College of Surgeons, and has been adopted by health systems nationwide.
Our ICU teams from the outset were ventilating patients in the prone position, a procedure now widely believed to be of benefit that was introduced much later in other institutions.
It also has been demonstrated that aggressive approaches to enhance oxygen delivery through noninvasive ventilation routinely used at UCMC reduces the need for mechanical ventilation and reduces mortality.
Aggressive use of high-flow oxygen-delivery systems, including helmet ventilators, almost certainly is responsible for the low percentage of patients requiring mechanical ventilation in our hospital and also likely reduced length-of-stay and contributed to improved outcomes.
UCMC was one of the first U.S. hospitals to initiate clinical trials of remdesivir, and in 2020 we placed 225 patients on this antiviral agent, which is now FDA-approved as an effective treatment for COVID-19 and has been demonstrated to speed recovery from the virus.
Since July
A new analysis by faculty, staff and collaborators around the world has found that remdesivir appears to be equally beneficial to patients regardless of race, supporting the need for early intervention and aggressive care for all patients in the fight against the ongoing pandemic.
Our organization is hosting the Medical Imaging and Data Resource Center (MIDRC), which is creating an open source database with medical images from thousands of COVID-19 patients. The MIDRC is curating a massive database of medical images to help better understand and treat the disease.
Our investigators determined that Black patients are at higher risk for contracting COVID-19, raising awareness of the existing healthcare and socioeconomic disparities faced by communities of color.
Following observational studies indicating that vitamin D deficiency is linked to increased risk of COVID-19, our researchers are conducting multiple clinical trials to test the potential for high doses of vitamin D in preventing COVID-19.
The Chicago Center for HIV Elimination, housed at UChicago, is conducting a COVID-19 testing project across eight rural and urban sites in the Central U.S. to engage two disenfranchised populations: low-income Latinx individuals and people of any ethnicity who were involved with the criminal justice system but are not currently incarcerated.
Our investigators are launching an investigational study with UIC to determine the effects of increased education and access to rapid, FDA-approved COVID-19 testing on community perceptions, access, and use of COVID-19 testing resources in underserved communities in the Chicagoland area.
COVID-19 Testing
Access to accurate and reliable testing for COVID-19 has been a central element in the delivery of high-quality care to patients with COVID 19. UCMC launched enhanced testing for COVID on March 17, thanks to the expanded capacity and throughput offered by our in-house platform. This involved a drive-up clinic and walk-in center for testing. The Department of Pathology and UCMC hospital laboratories deserve a great deal of credit for their proactive approach to rapidly introducing and validating high-throughput approaches to detecting the virus by reverse transcriptase polymerase chain reaction (RT-PCR).
(See "Service to the Community and Beyond" subheading below.)
Safety of Patients and Healthcare Providers
Providing a safe environment for our patients and healthcare workers has been the highest priority. Effective March 18, personnel whose work required them to be on campus including those who provide direct-care to patients, continued to report as scheduled and directed. All other personnel worked remotely or were held in reserve. This allowed us to provide essential services to patients while reducing the risk of exposure to and spread of COVID-19.
Our ability to manage the spread of infections on our hospital campus and safely care for patients speaks to the extraordinary efforts around safety. We have marked our successful progress through the pandemic in a number of ways, including the decommissioning of our COVID cohort units and the slight relaxing of visitor restrictions. Perhaps most importantly, we are serving an increasing number of non-COVID patients.
Despite widely reported national and local shortages of medical supplies throughout the pandemic, our supply chain team actively worked to ensure physicians, nurses, techs, assistants and other caregivers remain equipped with the appropriate PPE to deliver equitable care to patients in a safe environment.
All necessary PPE remains immediately available to all units by pager and we have worked very hard to ensure that our clinicians including physicians and nurses have had access to critical pieces of protective equipment.
UChicago Medicine has been able to responsibly and effectively steward PPE resources. All clinicians have had access to N95 and other more advanced respiratory protection (e.g., PAPRs and half face respirators) where indicated or called for by guidance from federal, state and local health authorities. N95 and other effective and approved alternatives have always been available on COVID-positive units and elsewhere as indicated. And we have repeatedly trained our providers on appropriate use of masks.
Starting March 26, we required universal masking of all staff throughout our health system, and this requirement continues today. Early adoption of cloth masks when medical masks are not indicated helped to protect our staff and prevent transmission between healthcare workers. Cloth masks are standard, and all personnel are provided with other forms of PPE appropriate to the level of precautions in place for the patients for whom they are caring.
We started testing patients and sick healthcare workers for COVID-19 in early February. Testing was made widely available to any employee with respiratory or flu-like symptoms since mid-March.
As a result of these measures, we have maintained staffing on all units throughout the pandemic, including in our ICUs. To ensure that staff had the requisite level of training and experience, those who were redeployed to the ICUs were PACU and ED nurses, with prior critical-care training and competency obtained in their home units. Prior to working on any ICUs, these nurses completed refresher training programs and received two days of training/precepting with current ICU nurses. All nurses had the option to request additional precepting, and many did.
All staff members have had access to locker rooms and can change clothes and shower at the Medical Center if they wish. In addition, UCMC has rented hotel rooms near the medical campus so that any staff member who prefers not to go home can stay there at no cost.
We have continued protecting the health and security of all staff through expanded paid leave with full benefits for those who need testing or have contracted COVID-19, which includes waiving costs for these services under our health care plans. We are providing these guarantees regardless of how or where the virus was acquired. Committing to the financial security of our staff assists those who must stay home from work and helps keep everyone safe by ensuring those who are sick have the financial ability to stay home until they can safely return to work without risk to fellow employees and our patients.
CARE PROVIDED TO NON-COVID PATIENTS
Despite the rapidly evolving and escalating crisis, UChicago Medicine continued to provide medically necessary, emergency and time-sensitive care to patients whose primary diagnosis was not COVID-19 but for whom a delay in treatment could have been life-threatening.
ED, Pediatric and Adult Trauma Centers
Unfortunately, according to statistics released by the Chicago Police Department, there was a 55% increase in shootings in Chicago in 2020 compared to 2019. As a result, our adult and pediatric trauma centers have been extremely busy with a total of 3,780* adult trauma activations and 607* pediatric trauma activations in 2020 — a 46% increase over 2019. We would like to acknowledge all the members of the trauma team who have delivered outstanding patient care to critically ill patients with the presence of COVID-19 being a constant concern.
On a broader level in our emergency departments, from March to December, we have had 61,706 adult ED visits, with 15,817 admitted. Of those, 2,347 went to the ICU. On the pediatric front, there were 16,381 ED visits, with 2,345 admits. Of those, 434 were to the PICU.
* Figure includes December data, which are estimates at this time.
Organ Transplantation
When the pandemic first hit, both living and cadaver transplants were postponed due to a lack of COVID testing and concerns that organs from those who contracted or died from the disease could spread the virus to recipients, who are especially vulnerable to COVID. Once we launched onsite testing in mid-March, the teams were able to begin performing transplants on patients in critical need of the procedure.
Even during this time of extraordinary precautionary steps, our Transplantation Institute reported the largest number of transplants ever performed at UChicago Medicine: 248 transplants (116 kidney, 71 liver, 5 pancreas, 45 heart, 7 lung, 4 allo-islet), a 20% increase over the previous year. This surpasses the previous record of 243 transplants in 1995.
Activation of Telehealth
The rapid activation of telehealth allowed us to continue to deliver care to patients despite restricted access to our facilities. We recognize that our community faces a digital divide and that there is a risk of worsening existing health disparities.
To that end, we worked hard to inform our community of the availability of telehealth services through advertising, social media and communication with our community partners. We also have monitored access for vulnerable groups and tried to mitigate resource barriers — such as absence of technology, digital literacy or broad-band access — whenever we could. In 2020, we conducted 74,629 telehealth visits via video or phone, a dramatic increase over the 26 telehealth visits in the previous year. This was on top of the 737,594 onsite visits in 2020.
SERVICE TO THE COMMUNITY AND BEYOND
Beyond the clinical care provided during this time, UChicago Medicine also shared its expertise and knowledge and provided additional services to the community.
Nursing Homes
Our infection control program and geriatrics team worked with nursing homes and long-term care facilities, particularly Montgomery Place and Symphony South Shore.
This included providing onsite guidance on infection control as well as education on correct PPE usage and cohort practices. They performed point prevalence testing of residents and staff and provided the facilities with PPE and COVID testing.
Additionally, they worked to foster increased communication pathways with families and the emergency room.
The lessons learned from this process were shared electronically through our ECHO program with other nursing home facilities across Illinois.
UChicago research has helped better understand and help nursing homes and other long-term care facilities. Health economist Tamara Konetzka, PhD, in the Department of Public Health Sciences, reported on predictors of coronavirus cases in nursing homes and testified at U.S. Senate Special Committee on Aging hearing.
COVID-19 Testing
On April 16, testing to the general public was dramatically expanded, and these expanded services have continued. The telephone triage line fielded hundreds of calls a day from those in need of testing.
From March 17 through December, 259,114 tests have been administered throughout our health system: 221,126 at UCMC and 37,988 at Ingalls.
Of those tests, 57,278 were conducted for community partners (such as FQHCs, nursing homes, community hospitals.
Members of our staff have consulted with a number of FQHCs and community hospitals about COVID-19 testing and helped them stand up their own testing operations.
Pharmacy Support
When South Side pharmacies were damaged and temporarily closed following protests in early June, the community faced an acute reduction in access to essential pharmaceutical services. UChicago Medicine took active steps to ensure continued availability of these services.
UChicago Medicine expanded hours for retail pharmacy and Meds2Beds, adding staff members to handle the increased volume of prescriptions and working with clinicians to get new prescriptions written for patients who were unable to transfer prescriptions.
Nearly 16,000 prescriptions were filled in the first two weeks of June, a 62% increase over the average volume.
COVID-19 Vaccination
UChicago Medicine received its first allocation of the Pfizer vaccine on the morning of December 17 and began vaccinating healthcare personnel that afternoon, starting with those who work directly with patients, in accordance with CDC and CDPH guidelines. Since then, more than 8,100 UCM and BSD personnel have received the vaccine or have scheduled vaccination appointments.
Our teams have been working hard to ensure our medical center uses its vaccine allocation in an efficient, responsible and orderly manner. Our organization has proven that up to 1,000 individuals can be vaccinated a day if needed, and we have storage facilities to store any of the COVID vaccines, including those that need ultra-cold conditions.
We will be ready to vaccinate additional groups once we receive updated guidance and additional vaccine from CDPH. We are particularly eager to serve our South Side community and to begin vaccinating our patients. In addition, to further support CDPH's city-wide vaccination effort, we asked for authorization in late December to vaccinate other front-line clinicians who work on the South Side and are not affiliated with UChicago Medicine. We were granted permission and plan to begin that effort as soon as possible.
Kenneth S. Polonsky, MD, is Dean of the Biological Sciences Division and Executive Vice President for Medical Affairs at the University of Chicago. Tom Jackiewicz is President of the University of Chicago Medical Center and Chief Operating Officer of the UChicago Medicine health system.
Learn More About COVID-19