Skip to content
UChicago Medicine to open Orland Park drive-up testing clinic for COVID-19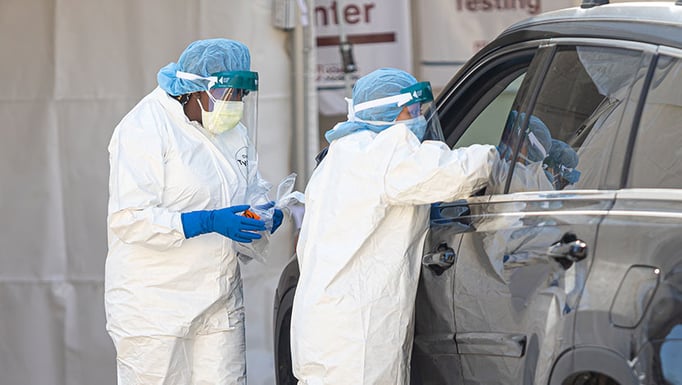 The University of Chicago Medicine is expanding its curbside COVID-19 testing to its Orland Park outpatient location, adding a third drive-up clinic for the Chicagoland community.
The health system's Orland Park testing site will open May 12 and will offer drive-thru COVID-19 testing to the general public. All testing will require an appointment.

UChicago Medicine has capacity to test up to 1,000 symptomatic people a day across its various locations, including its Hyde Park campus, Orland Park site and Ingalls Memorial Hospital in Harvey. That figure includes inpatients, drive-up clinics and laboratory testing for a number of community partners. The addition of a new testing location in Orland Park allows for even greater capacity for community screening services in Chicago's south suburbs.
Members of the public, as well as established UChicago Medicine patients, are able to request COVID-19 tests by contacting the health system's triage screening lines (773-702-2800 for testing in Hyde Park and Orland Park; 708-915-2683 for testing in Harvey). Viral testing is available to sick individuals of any age at UChicago Medicine's Hyde Park and Orland Park locations and to those who are 18 and older at Ingalls Memorial. Patients who meet testing criteria will be directed to schedule an appointment at curbside clinics. Established UChicago Medicine patients can also request an e-visit.
UChicago Medicine will not be asking patients to pay for COVID-19 testing. Their insurance plans will be billed for the cost of the test, and the health system will waive co-pays so there will be no out-of-pocket costs to patients. People without insurance also will not face any financial obligations for the test.
Drive-up swabbing visits typically take several minutes to complete and patients remain in their cars the entire time. Those who receive tests will get information on how to self-isolate and monitor for symptoms after their visits and will receive follow-up phone calls with test results in one to two days.
Additionally, UChicago Medicine will provide limited, drive-up blood work (for general medical testing) for already established patients.
Individuals will be considered eligible for COVID-19 tests if they have symptoms, which include fever, cough, stuffy nose, sinus pain, chills, difficulty breathing and body aches.
To learn more about UChicago Medicine's COVID-19 testing services, visit www.uchicagomedicine.org/covid-testing. Additional information about video visits with UChicago Medicine physicians can be found at www.uchicagomedicine.org/video-visits.
UChicago Medicine Orland Park COVID-19 Screening
COVID-19 testing is available by appointment only to adults 18 and over. Orland Park testing can be requested by calling 773-702-2800 or making a MyChart e-visit (established patients only). If individuals need to be tested, they will be directed to schedule an appointment.
Telephone triage hours: 8 a.m. to 4 p.m. Monday through Friday. Open to current patients and the general public.
MyChart e-visit hours: You will receive a response within one hour if the questionnaire is submitted between 6 a.m. and 10 p.m. Otherwise, you will receive a reply by 9 a.m. the following day. Current patients only.
Testing clinic hours: By appointment only from 8 a.m. to 4 p.m. Monday through Friday; Limited blood and laboratory testing services for general medical purposes are also available to established patients.
Additional COVID-19 testing is available in Hyde Park, Harvey and Calumet City. Visit www.uchicagomedicine.org/covid-testing for the most up-to-date information on testing services at UChicago Medicine and Ingalls Memorial Hospital.

Support UChicago Medicine's COVID-19 Response Fund
Help support our dedicated healthcare workers on the frontlines of the COVID-19 pandemic, as well as the adult and pediatric patients and families who are affected.
Learn More About COVID-19