Skip to content
Coronavirus concerns for kids with chronic liver disease
Hi, everyone. I'm Dr. Ruba Azzam, an associate professor of pediatrics at the University of Chicago Comer Children's Hospital. I'm the Director of Pediatric pathology and the medical director of pediatric liver transplantation.

We know that chronic liver disease is one of the underlying diseases that could make the patient susceptible for severe infection with COVID-19. We do have recommendations and some guidelines from the American Association of Liver Diseases and from the CDC. So far, we know that pediatric patients are at less risk for liver disease compared to adults. Nonetheless, the risk is not zero. And it seems that a severe infection with COVID-19 could precipitate also severe representation of liver disease. Nonetheless, in pediatrics, we know that children in general are at higher risk for severe infection. Nonetheless, those who are less than five years old are the ones that are susceptible for the severe presentation of the disease.

So prevention is better than cure. And we know that the CDC has already gave us guidelines on how to prevent infection. Please clean your hands very often. Sanitize these surfaces that we touch very commonly. And avoid touching your face, nose, ears, mouth with unwashed hands. Social distancing remains one of the most-- or one of the best weapons to slow the silent spread of the virus and flatten the curve of a COVID-19 infection.

Please avoid contact with people who are sick, and please try not to travel during this season. Patients who have medications to be used, they should really stock on their medications. Please get refills for 90 days. Nowadays, insurance companies are waving the medication refill fees and limits. Telemedicine continues to be the best option at this point to mitigate the exposure of patients and health care workers to COVID-19. And please call us. We will be able to help you decide whether you need to be seen in person in clinic or telemedicine is the right choice for you and your child.

COVID-19 symptomatology seems to be mostly between the asymptomatic and mild infection with cough, fever, maybe some abdominal discomfort. Liver manifestations seem not to be that except for the severe infection, where jaundice could happen. These are significantly worse scenarios of the infection. Nonetheless, there is no specific liver disease-related symptom that is linked to COVID-19.

So information is limited regarding the net effect of this virus on patients with chronic liver disease. We know that the virus attaches to certain receptors on the cell membranes of different organs in the body, one of which is the liver. So the risk is there. Nonetheless, what we know of at this point, and information continues to flux very rapidly, is that pediatric patients have not had any significant liver disease related to COVID-19.

Drug-drug interaction is always a possibility. But once these medications are prescribed to try to ameliorate the course of COVID-19, patients will be under the supervision of the medical team that prescribed them. So they would be significantly more monitored for these side effects if they are to happen.

If any of the pediatric patients with liver disease show any symptoms of fever, cough, fatigue, vomiting, nausea, abdominal pain, or discomfort-- diarrhea-- please call your doctor. Please call the liver team that is following your patient, and we will be able to give you the right advice on what to do and whether monitoring at home is the right choice for your child or that your patient, your child needs to be seen in clinic.

So literature tells us that post-transplant recipients in general are more likely to acquire this virus and this disease, as they are immunocompromised. Nonetheless, it is too early to know if immunosuppressed patients are at greater risk for more severe COVID-19. Immunosuppression, though, may prolong the shedding of the virus after a patient gets that infection. Patients who are on immunosuppression medications without any signs or symptoms of COVID-19 do not need any change in their medications. And hopefully, their liver disease does not require them to be on high dose steroids.

In contrast, patients who are liver transplant and get the infection, then the primary liver transplant team will be working with the patient and the family on managing these medications, some of which may need to change the dose, especially if there are side effects of their infection or the sign like low white cell count or signs of pneumonia or continued fever.

For all our patients who are followed up at our department in the section of pediatric gastroenterology, hepatology, and nutrition, please always remembered that the best way to prevent illness is to avoid being exposed to the virus. We are here to help you and we are here to answer all questions and concerns. Please do not hesitate to call us if you have any questions. Please be safe. Please be healthy. And please avoid mixing with other patients and people, especially if they were sick.
At the University of Chicago Medicine Comer Children's Hospital, our team provides specialized care for liver diseases in kids of all ages. If your child has a chronic liver disorder, you may have heightened concerns during the coronavirus pandemic. We're here to answer your questions about COVID-19 and and liver disease in children.
Are children with chronic liver disease at higher risk for COVID-19?
While children can get COVID-19, they are generally at lower risk than adults for severe infection from the virus. However, children with chronic liver disorders could experience more serious liver disease if they get COVID-19. Keep this in mind if your child has:
Biliary atresia or other biliary disease
Liver failure
Metabolic liver disease
Hepatitis
Liver tumors
Cirrhosis
The best approach is prevention of the COVID-19 infection. Follow these CDC guidelines and teach your children these important tools for staying safe and healthy:
Clean your hands thoroughly and frequently.
Sanitize the surfaces you touch often.
Avoid touching your face, nose, ears and mouth with unwashed hands.
Practice social distancing — one of the best weapons to slow the silent spread of the virus and flatten the curve of the infection.
Also, please avoid contact with people who are sick and try not to travel during this time. In addition, be sure to have 90 days of your child's medications on hand.
Are COVID-19 symptoms different for children with chronic liver disease?
No. Most children who have COVID-19, including those with liver disease, have either no symptoms or mild infection with cough, fever and, in some cases, abdominal discomfort. In rare cases of severe infection in healthy children and in children with underlying disease, jaundice has been seen.
Does COVID-19 cause liver damage in children?
This coronavirus attaches to certain receptors on cell membranes in different organs of the body, including the liver. But, while the risk may be there, there are no reports of children who have develop significant liver disease related to COVID-19.
Is my child at greater risk for COVID-19 if they've just had, or will soon have, a liver transplant?
Post-liver transplant patients are more susceptible to getting the coronavirus because they are immunocompromised. But we don't know yet if they are at greater risk for more severe COVID-19. Being immunosuppressed may mean it will take longer to recover from the virus.
Our liver transplant team will work with parents and patients to manage medications and monitor patients for signs of pneumonia, fever or low white cell counts.
What's the best way to reach my child's care team during the coronavirus pandemic?
As always, parents of children with chronic liver disease should get in touch with their child's physician team if they have any questions or concerns. Many issues can be resolved over the phone or through a telemedicine visit.
Comer Children's patients can contact the pediatric gastroenterology, hepatology and nutrition team at 773-702-6169 or through MyChart.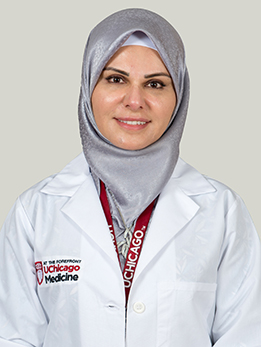 Ruba Azzam, MD, MPH
Ruba Azzam, MD, MPH, specializes in pediatric hepatology, gastroenterology and nutrition, including hepatobiliary diseases, liver transplantation, pancreatic disorders and more.
Learn more about Dr. Azzam
Learn More About COVID-19