Skip to content
Violence recovery specialist draws on personal experience to help patients and families heal after trauma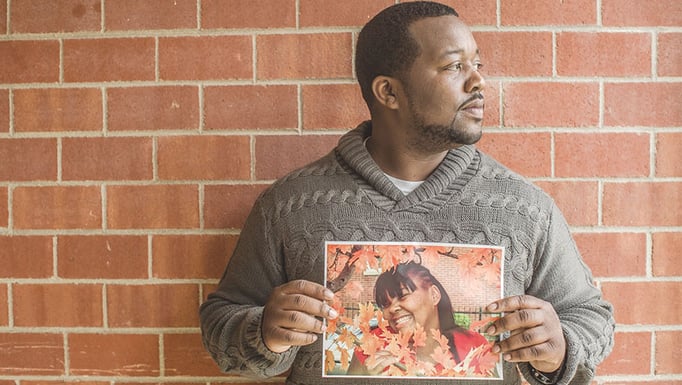 Chicago Tribune Red Eye/TCA. Martinez Sutton holds a picture of his late sister, Rekia Boyd.
In early 2012, military veteran Martinez Sutton was working in the heating, ventilation, and air conditioning (HVAC) industry, and using his military benefits to pursue a college degree at Chicago State University. His goal was to become an occupational therapist in order to help other veterans thrive after military service.
March 21 changed everything for Sutton. That evening, Sutton's youngest sister, 22-year-old Rekia Boyd, was fatally shot when off-duty Chicago police detective Dante Servin opened fire on a group at Douglass Park on Chicago's West Side. Servin claimed he saw a man in the group pull a gun, but police never recovered a weapon, and prosecutors said the man was holding a cell phone. Servin was charged with involuntary manslaughter and found not guilty in 2015.
People are telling me their story and I wanted to fight for them, advocate for them — to do what I believe a human is supposed to do.
After Boyd's death and through the ensuing investigation and trial, Sutton became a voice for justice, not only for his sister but for other families that have experienced similar loss. He seized opportunities to speak out about police violence in Chicago and participated in March2Justice: an eight-day, 250-mile march from Staten Island, New York, to the nation's capital to demand congressional intervention to tackle the national crisis of police violence.
"As the case went on, I met so many families going through the same thing," said Sutton. "People are telling me their story and I wanted to fight for them, advocate for them — to do what I believe a human is supposed to do."
In the midst of his grief and his family's struggles with the justice system, Sutton was twice accepted into occupational therapy education programs, but he did not feel prepared to attend, due to the trauma. He ultimately decided to change his career path and enrolled in a master's program for clinical mental health counseling at Adler University. He graduated in 2018 and is currently pursuing his certification to become a licensed clinical professional counselor.
"Because of all that I had experienced, I wanted to learn how the mind works," he said. "I don't want anyone else to feel this trauma and stress, to feel depressed."
Sutton feels a particular call to help people on Chicago's South Side. He grew up at 62nd Street and Cottage Grove, just blocks from the University of Chicago Medicine's main campus. He has seen violence on the streets, drugs, and people struggling with their mental health. He advocated for a trauma center to serve the South Side before UChicago Medicine opened its Level I adult trauma center in 2018. When he learned about the Violence Recovery Program (VRP) specialist position, it seemed like a natural fit — though his past experience initially gave him pause.
"Until then, I was enjoying my work in HVAC because I got to meet people on a good note," he said. "Now when I meet people, it's to help them deal with a really hard situation. With all the traumatic experiences that you might see in this role, I wasn't sure if I was ready, but the only way to know is to dive in to it."
Sutton joined the VRP team in April 2021 and was immediately confronted with the difficulties of the position. On his first case as a VRP specialist, he dealt with a traumatic death.
"I remember being in the conference room, learning about my position and the expectations, how to deal with families," Sutton said. "Then we get a page to come to the emergency room. I saw someone rolled into the trauma bay who had been shot in the head, and it immediately made me think of my sister. I thought, 'Wow, what am I doing here?' I wasn't sure I wanted to do this job."
Over time, however, Sutton learned how to process the secondary trauma in the role and how to not take his work home with him. He credits the trainings offered by the VRP team, and the experience and support of his fellow team members.
"The program makes sure we take care of ourselves, especially when lots of activations are coming through at once. You always have folks on the team who are waiting to help."
Connecting with Patients
In his role, Sutton sees himself as a connection-maker first and foremost. He is eager to help patients find the support system that works best for them — whether it be a family member or loved one, a doctor or nurse, or an organization who can help with employment or relocation.
"When people first come in, they're hurting, they're in a lot of pain," said Sutton. "Some people open like a book, but some people don't want to talk. My first priority is to make them as comfortable as I can and to conduct outreach on their behalf, to connect them to what they need."
This attitude has served his patients and their families well — even those who are reluctant to engage with him. Sutton recalled one young male patient who came to UChicago Medicine with a gunshot wound that had paralyzed him from the neck down. It was his third time being shot in less than two months. Sutton visited the patient each day he was in the hospital.
"He never once looked at me," Sutton said. "He would usually pretend to be asleep. I would just go in [the patient's room] and speak anyway, something motivational every day. I would say, 'I just want you to know that this is not the end of your story. The doctor says you may be paralyzed, but just keep trying. Don't give up.'"
Over several weeks, the patient continued to ignore Sutton's attempts to encourage him. The patient's mother was similarly dismissive, but Martinez was undeterred. He continued to visit the young patient and offer support to his mother at every opportunity.
On one visit, just as the patient was scheduled to be transferred to a physical therapy facility, Sutton was surprised to find the patient looking right at him instead of feigning sleep when he entered the room.
"When I came in, he gave me a head nod," Sutton said. "I figured out that he was nodding down at his foot. When I looked down, [the patient] wiggled his toe! And he smiled, for the first time! He and I celebrated together, and I helped him get his phone to text his mom. I said, 'I told you, don't give up! I may not see you tomorrow or the next day, but you have to keep going.'
"That moment touched my soul."
Learning to Change
In addition to developing his personal approach to patient treatment and support, Sutton has learned several lessons during his year as a VRP specialist. One of the most important is about change.
"Most of the folks that come in [to the violence recovery program] actually want to change," he said. "They've been involved in gang-related shootings or robberies, and they are very emotional when they come to us. As we work with them, we find that they want to change, but they don't know what change is or how it comes about, based on the environment they come from."
This work is so important. The families I meet, they believe so, too. It was a long time coming to have something like this.
Sutton helps them discover how change is possible, to see a different future for themselves.
This lesson not only applies to his patients, but to Sutton himself.
"I used to take everything on myself," he said. "I didn't want to listen to music because even that sounded too violent to me. I had to learn how to change my own habits, to indulge in self-care … to help me through some of the trauma that I see and deal with."
Sutton spends his free time writing and is teaching himself to play guitar and piano. He's also a big fan of live comedy shows and comedy specials on Netflix. These activities help ground him and relieve the stress of his role, which he acknowledges can affect a person spiritually, mentally and emotionally.
With the appropriate self-care mechanisms in place, however, Sutton sees himself being engaged with UChicago Medicine's VRP for the long term, and wants to develop his position and continue to improve the program.
"This work is so important," he said. "The families I meet, they believe so, too. It was a long time coming to have something like this."
—
UChicago Medicine is thankful for the support of Scott and Yael Silverman, as well as other generous donors of the Violence Recovery Program including Michael Reese Health Trust and the Robert R. McCormick Foundation.
Trauma and Violence Recovery Articles