Skip to content
UChicago Medicine's Brenda Battle leads first-ever Health Equity Action Day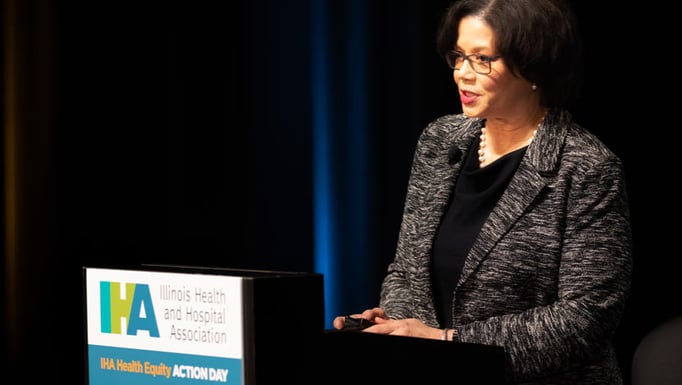 Brenda Battle speaks at the Illinois Health and Hospital Association's inaugural Health Equity Action Day.
On June 18, 2021, as part of the Illinois Health and Hospital Association's (IHA) inaugural Health Equity Action Day, Brenda Battle, the University of Chicago Medicine's Senior Vice President for Community Transformation and Chief Diversity, Equity and Inclusion Officer, led the kickoff event, serving as emcee and announcing the launch of a new health equity assessment tool.
The program, which was livestreamed from McCormick Place, incorporated speeches and an in-studio expert panel discussion, along with virtual remarks from U.S. Senator Dick Durbin, Governor JB Pritzker, Mayor Lori Lightfoot and prominent healthcare, public health and faith leaders.
The event was scheduled to coincide with Juneteenth, which was recently designated as a federal and state holiday to commemorate June 19, 1865 — when some of the last enslaved African Americans received word of their emancipation.
Last year on Juneteenth, UChicago Medicine played a leading role in publicly committing to improving health equity throughout the communities it serves. The medical system — along with more than 40 other healthcare organizations and providers — named racism as a public health crisis and signed a pledge committing to overcome health disparities in minority communities and ensure greater health equity across the city. The action steps are a key part of UChicago Medicine's Equity Plan 2025 and are featured in the academic health system's 2020 Community Benefit Report.
During the Health Equity Action Day event, Battle announced the launch of the IHA's Racial Equity in Healthcare Progress Report, an assessment tool that healthcare leaders can use to document and account for the work being done to advance health equity in their organizations. Through her leadership roles on the City of Chicago's Racial Equity Rapid Response Team and IHA's Health Equity Leaders' Workgroup, Battle helped to develop the foundation for the progress report, which provides health equity metrics in four key sections, or pillars — People, Patients, Organization and Community.
"We strived to develop a tool that would allow healthcare providers to reflect on where they currently are on their health equity journey and identify opportunity areas for growth," Battle said. "By focusing on the four pillars — People, Patients, Organization and Community — we believe we have developed a comprehensive lens for healthcare providers to take a deep look at their existing health equity framework and look forward toward the future."
Battle urged Illinois hospitals and other healthcare providers to complete the progress report during the summer of 2021, so that they can collaborate with other healthcare organizations doing similar work and engage in planned health equity-related activities in the fall.
A recording of the Health Equity Action Day event can be viewed until July 18 here: iha.onlineevent.com.
Community Outreach and Health Equity Articles