Skip to content
Quick health tips for African-American men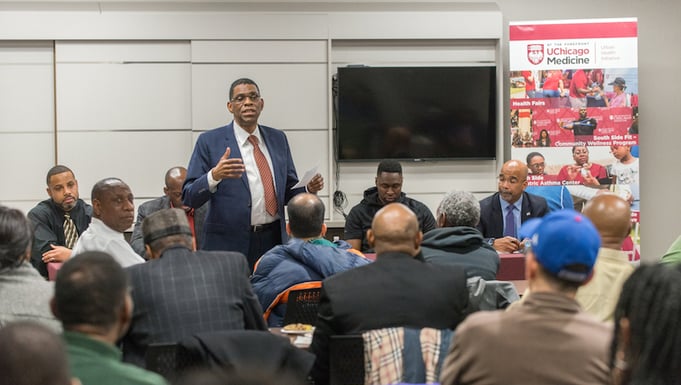 Terry Mason, MD, Chief Operation Officer, Cook County Department of Public Health, talks about the importance of healthy eating at the health seminar.
According to the Center for Disease Control and Prevention, the life expectancy of African-American men is lower than that of many other ethnic groups. Medical professionals attribute this disparity to the various health issues that strongly impact this population, such as high blood pressure, diabetes, cancer and heart disease, to name a few.
A recent University of Chicago Medicine health seminar, focusing on the health and wellness of African-American men, shared four simple, cost-effective lifestyle changes that can move the needle to increase their life expectancy and overall quality of life:
Get moving daily. You don't need to go to a fancy gym to move your body. Take a walk outside or walk around the house. Just 30 minutes of daily cardiovascular activity will help prevent muscle and bone deterioration, minimizing your risk for bone fractures and breakage.
Lose weight. This is not just about looking good in a pair of jeans. Losing weight can lower blood pressure. If you are on blood pressure medication, it helps the medication work more effectively.
Change your diet. Some may say that buying groceries, especially healthier food options, can really hit their household budget. However, good health requires a balanced, portion-controlled meal. Cut out items that are high in sugar, salt and fat, such as processed and fast foods. Eat more food that comes from the earth. It really makes a difference.
Know your numbers. Please visit your primary care physician and get routine medical tests, including high blood pressure and cholesterol. Staying armed with this information will help you to manage your health.
These tips are all things that anyone can change, and if done consistently can help put you on the path to better health. Although this is a pretty simple plan of action, always make sure to consult with your primary care physician.
The seminar, Men's Health: Physical, Mental and Spiritual, is a part of the University of Chicago Institute for Translational Medicine's and UChicago Medicine's Urban Health Initiative's Community Grand Rounds, an educational series that brings together the community to address health issues. Hosted by Doriane Miller, MD, director of the University of Chicago Medicine's Center for Community Health and Vitality, the panelists included: Orlandus Thomas (moderator), fitness and wellness coach, founder of Change for the Better, and physical health education teacher at Gary Comer College Prep, Clyde Yancy, MD, MSc, MACC, FAHA, MACP, FHFSA, chief, Division of Cardiology, Northwestern University, Feinberg School of Medicine and associate director, Bluhm Cardiovascular Institute, Northwestern Memorial Hospital, Terry Mason, MD, chief operation officer,Cook County Department of Public Health, Siddiqu Muhammad, certified nutritionist and certified personal trainer, Chicago Fit 4 Life, and Michael Neal, pastor of Glorious Light Church.
Urban Health Initiative
The Urban Health Initiative (UHI) is UChicago Medicine's community health department through which population health and community benefit are administered.
Learn more about the urban health initiative
Community Outreach and Health Equity Articles