Skip to content
Pritzker students mobilize to help hospital's COVID-19 response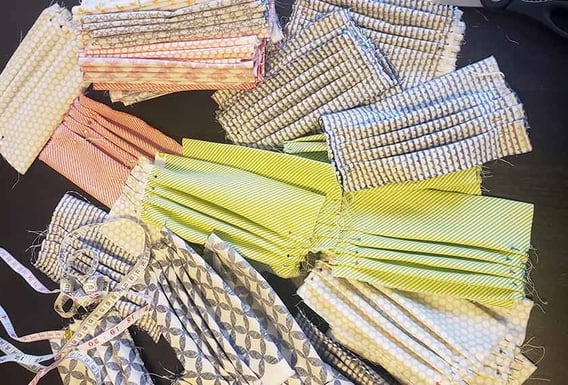 Pritzker School of Medicine students gathered last month for a meeting about the transition to virtual coursework, given the recent COVID-19 outbreak.
During the meeting, someone mentioned that the hospital needed volunteers to be infection control monitors. They'd sit outside COVID patients' rooms, tracking the medical staff who enter and checking that they have protective equipment. Interested students were asked to raise their hands.
The entire room raised their hands.
And so began a massive effort by Pritzker students to assist University of Chicago Medicine and its staff during this unprecedented pandemic.
Since then, the medical students quickly mobilized more than 150 volunteers to do everything from walking hospital staff's dogs to staffing a faculty-supervised COVID-19 hotline to provide callers with researched advice on how to quarantine and manage their symptoms. Within six hours, 100 students volunteered for the hotline, which should be in operation shortly.
The students launched the Pritkzer COVID Volunteer Initiatives website, and designed a Pritzker Helps Out app to connect the hospital staff with student volunteers. Other students got to work sewing face masks, promoting blood drives, lobbying legislators on measures to support the hospital, serving as infection control monitors in the hospital, and much more. One student used his personal connections to secure a donation of 2,000 face masks to the hospital from a family friend's company, and also connected the hospital with the company's mask supplier to provide more masks at a reasonable cost.
"It'd be so easy for the students to all say, 'What does this mean for me? And my education?' But instead they're saying, 'How can I help?'" said Dana Levinson, associate dean for the medical school administration.
Normally, at this time of year, many medical students are worrying about board exams and residency applications. Instead, they're getting experiences that are likely to be formative and memorable, said Pritzker's Dean of Students James Woodruff, MD.
Woodruff is overseeing the three Pritzker Chiefs leading the student volunteer effort: Tyrone Johnson, Kathryn Nutting and Lucy Xu. These "Chiefs" are fourth-year medical students selected earlier this year to provide leadership to the Pritzker student body. COVID-19 dramatically expanded their role.
Johnson, Nutting and Xu say there's been impressive teamwork, and the students are learning a lot about hospital operations. They've also partnered with universities across Chicago to create the COVID Rapid Response Team Chicago, made up of more than 500 medical school students.
"The entire student body is very eager to help however they can," Nutting said. "I get emails every day with new ideas."
Johnson, a fourth-year student, said it's been a "bittersweet" time because celebrations he looked forward to, like Match Day, were moved online or canceled. But he's becoming a physician to help people, and he's again getting the opportunity to do that.
The students' mindset is aligned with Pritzker School of Medicine's emphasis on community, social justice and health disparities. They plan to work with patients from their five free Chicago clinics to make sure people have been able to get their medication and other necessities.
"The pandemic is something we never would have wanted, but it serves as another opportunity for our students to learn what it means to be a healthcare professional," Woodruff said. "It warms one's heart to see young people who will one day be in our shoes doing this work."
For the most up-to-date information about their volunteer activities, visit their website, https://sites.google.com/view/pritzkercovidvolunteers/home.
Community Outreach and Health Equity Articles