Skip to content
White House correspondent April Ryan headlines King celebration
KIPP Bloom College Prep in-house choir sings during the Martin Luther King, Jr. Celebration held on Jan. 21.
During her keynote speech at the University of Chicago Medicine's 44th annual Dr. Martin Luther King, Jr. celebration on Jan. 21, White House correspondent April Ryan said, "Instead of asking, 'What would Dr. King do? Ask yourself, 'What can you do?'"
Ryan, the only African American female reporter covering urban issues from the White House since the Clinton administration, told UChicago Medicine faculty and staff to take charge of their call to serve.
"You are in position. Take hold of something that you believe in. The change starts with you and your heart," she said.
UChicago Medicine leaders also shared how the medical institution answers Dr. King's call to serve.
"The call to serve those in need is evident in our patient population, as 23% of our patients come from the South Side," said Kenneth S. Polonsky, MD, Executive Vice President for Medical Affairs at the University of Chicago.
"It is also evident in how we contribute to the economic vitality of our neighborhood by bringing jobs to residents and pumping dollars into the local economy. Through mobile units, we are enrolling the community in research programs — to gain insights into how diseases develop and what can be done to prevent them."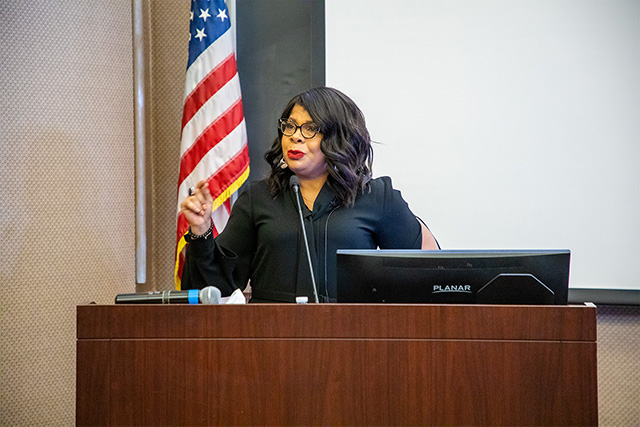 University of Chicago Medical Center President Sharon O'Keefe thanked faculty and staff for their continued commitment and contributions.
"Each day the people of UChicago Medicine answer Dr. King's call to serve, and I would be remiss if I did not take this opportunity to thank you all for being a beacon in our community," she said. "Beyond providing expert health care, we are committed to being a great community partner and investing in our neighbors. And that has been made possible because of you and your colleagues."
Brenda Battle, Vice President of the Urban Health Initiative and Chief Diversity, Equity and Inclusion Officer at UChicago Medicine, closed the program and reminded the audience of the medical center's continued efforts to support the South Side.
"It is a great privilege to provide care for those in need. Dr. King once said: Life's most persistent and urgent question is, 'What are you doing for others?'" she said. "We must continue to focus on the issue of health disparities to improve health outcomes on the South Side. That means making sure our neighbors have easier access to the care and resources they need to achieve their best health."
KIPP Bloom College Prep in-school choir, a part of the Chicago Children's Choir, kicked off the celebration with a joyful music selection that had everyone smiling and clapping their hands. Founded at the height of the Civil Rights Movement, the Chicago Children's Choir now serves more than 5,000 Chicago-based youth through in-school and after-school programs and performs for audiences worldwide.