Skip to content
Medical residents step up to care for patients, reach out to community during pandemic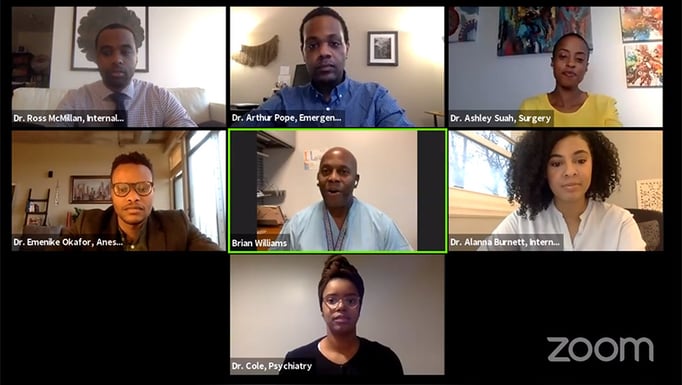 As a result of the COVID-19 pandemic, medical residents — physicians who have completed medical school and are training in a specialized area — have been dedicated to caring for COVID patients. This includes medicine and anesthesiology residents spending long hours in intensive care units, and emergency medicine residents treating patients who come into the Emergency Department. Residents in specialties from surgery to psychiatry to pediatrics are also stepping up to provide expertise.
"Residents are right there on the frontlines with the nurses and other physicians," said Anita Blanchard, MD, Associate Dean for Graduate Medical Education at the University of Chicago. "They're completing their training, while also contributing to this effort. Many are sacrificing other educational opportunities to help cover the COVID units."
As residents gain new skills and see patients across the hospital, they've offered valuable insights and identified new opportunities for reaching those in the community who are disproportionately affected by the virus.
"Residents are bringing innovative solutions to address community problems," Blanchard said. "This is such a unique and devastating crisis, and healthcare providers recognize that we have to do things differently to ensure that we can continue to provide the safest care possible to our patients."
Ensuring the safest, most ethical care
Early in the pandemic, residents met with other physicians and hospital leaders to discuss how to most safely treat patients, including those with COVID-19, as well as patients with other conditions who come into the hospital. Vivek Prachand, MD, Chief Quality Officer in the Department of Surgery, shared guidelines that he and a team of UChicago Medicine surgeons established to help prioritize medically necessary, time-sensitive procedures within an ethical framework.
With these guidelines in mind, residents, including Ava Ferguson Bryan, MD, worked with Kevin Roggin, MD, Program Director of the General Surgery Residency Program, to develop a new consent form to ensure patients have the information they need to make informed decisions about their care during the pandemic. Their work has since been accepted for publication in Annals of Surgery.
"I'm very grateful and proud of how we've cared for our patients during this crisis," said Ashley Suah, MD, chief surgery resident. "Our leadership values our thoughts and opinions, and recognizes that we're a team — we are all working together to provide the best care for our patients."
Suah added that everyone in the hospital is taking extra precautions to make sure patients are protected. "We all wear masks and personal protective equipment at all times," she said.
Reaching out to the local community
"We were having a lot of discussions about how the virus is affecting vulnerable groups and the health disparities we're seeing among African-American and Latinx communities," Suah said. "We wanted to find a way to not only bring those conversations to the community, but to have them come from physicians of color who have shared cultural experiences."
To address those needs, Suah joined fellow residents in UChicago Medicine's House Staff Diversity Committee to offer a series of discussions on Facebook Live moderated by Brian Williams, MD, Associate Professor of Surgery. The forums allow for the residents to share their experiences caring for patients during the pandemic, while also offering recommendations and fielding questions from community members.
Blanchard has been especially impressed by the residents' response.
"I think what we're learning is that you don't necessarily need to be in the same physical space to have an impact," Blanchard said. "These residents are going beyond the walls of the hospital to reach patients and people in the community. Sharing information via Facebook and other online platforms is smart because it allows us to reach a much broader group of people."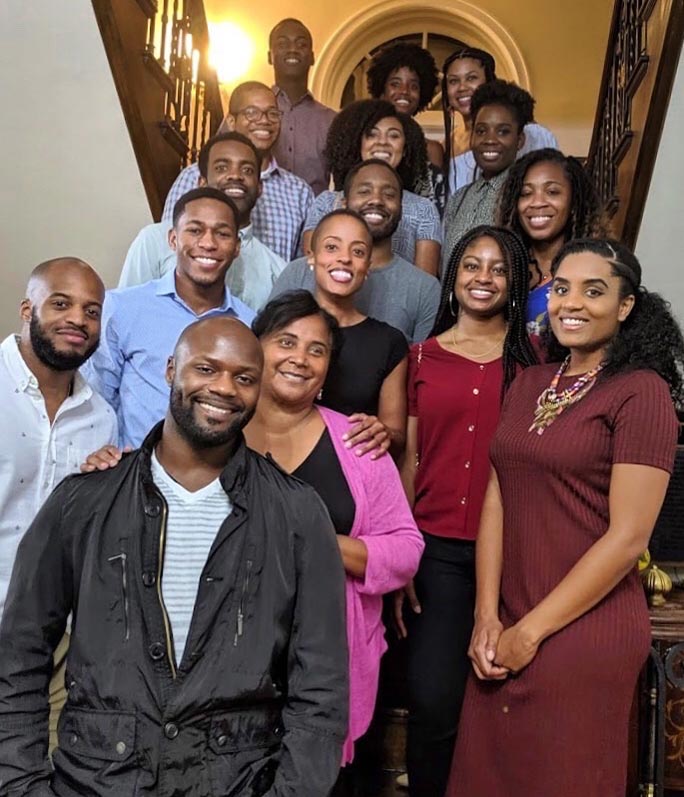 Suah and Blanchard also emphasized that the University's commitment to the local community is part of an ongoing effort.
"Many faculty members, residents, and medical students have served the community, and will continue to serve it, for many years," Suah said. "Physicians like Drs. Doriane Miller and Monica Vela are graduates of the University of Chicago Pritzker School of Medicine who have dedicated their careers to supporting under-resourced communities."
Recommendations from across the hospital
During the residents' Facebook Live discussion, Arthur Pope, MD, PhD, an emergency medicine resident, noted that his team has seen a decrease in patients with non-COVID-related illnesses coming to the emergency department, which he attributes to concerns about being exposed to the virus. Pope urged patients to come to the emergency department if they are experiencing serious symptoms that aren't improving.
"If you are having signs of stroke or chest pain that's not going away, you need to come in," Pope said. "We are here to take care of you."
Meanwhile, psychiatry resident Katie Washington Cole, MD, PhD, discussed the mental health implications of COVID-19. Washington Cole noted that minority communities have experienced significant emotional and psychological trauma, which can contribute to and negatively impact chronic conditions like high blood pressure and heart disease.
"All of these things can predispose people to worse outcomes with COVID-19," Washington Cole explained. "This means that tending to our mental health right now is especially important. When we show care and concern for each other, we're telling one another that our lives matter, our mental health matters, and I think with everything going on, we need so much more of that."
Alanna Burnett, MD, a resident in pediatrics and internal medicine, offered tips for infectious disease prevention for families with limited resources. Among her suggestions was for families with young children to continue to come into the clinic for immunizations.
"There are other viruses out there, and we want to make sure we are vaccinating children for the diseases that we can prevent," Burnett said. "For this reason, we are encouraging families with children under age two to continue coming in for their immunizations."
Gratitude to the community
Despite the personal and professional sacrifices they are making, UChicago Medicine's residents remain grateful for the opportunity to learn and grow.
"I've always felt supported and nurtured as a resident at UChicago Medicine," Suah said. "We are being trained on how to become excellent leaders in healthcare. Physicians like Dr. Blanchard, who have been doing so much to help residents during this time, have taught me the importance of not just taking good care of our patients, but also of each other and ourselves."
Suah added that she is grateful for all of the people who have come together during this time — from the physicians and nurses on the frontlines who are caring for patients in the COVID units, to the scientists studying the virus, to those in the community who are offering support.
"There are so many people who have donated masks and meals, or who have shared notes of affirmation," Suah said. "All of that goes a really long way."