Skip to content
Making A Difference Every Day: Comfort Food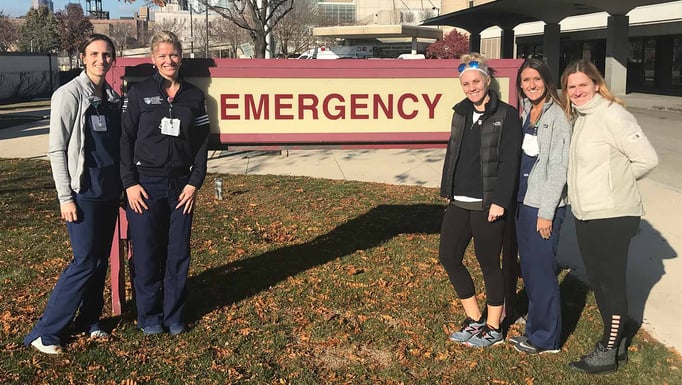 University of Chicago Medicine nurses Molly Salvatori, Shana Creighton, Jessica Durkin, Meghan Donahue and Kathleen Honkisz take a photo outside Mercy Hospital & Medical Center on Nov. 20 after dropping off food for their colleagues in the hospital's emergency department.
It had already been a busy day in the University of Chicago Medicine's adult and pediatric emergency departments when word came of a shooting at nearby Mercy Hospital & Medical Center. Patients — exactly how many remained to be seen — were on their way to UChicago Medicine's hospital's trauma center, which was five miles away from the Bronzeville community hospital.

"As soon as we received notification there was an active shooter in a hospital, our hearts sank," Molly Salvatori, MSN, RN, a nurse in the emergency department at Comer Children's Hospital, said of the Nov. 19 shooting.

Teams sprang into action, as additional staff came in to treat current patients while preparing for trauma patients as well as an influx of families and public safety officials.

In the end, three people died: Chicago Police Department Officer Samuel Jimenez, Mercy Hospital emergency room physician Tamara O'Neal, MD, and pharmacy resident Dayna Less, PharmD. Two were treated at UChicago Medicine.

"It hit close to home, trying to save the lives of some of our own," said Shana Creighton, MSN, RN, who was part of the trauma team in the adult ED.

Chicago's medical and first responder community is tightly knit and employees in both emergency rooms had close connections to Mercy and the victims. Many were deeply affected by the day.

That gave Comer Children's emergency room nurse Jessica Durkin, BSN, RN, an idea. What about sending comfort food to colleagues at Mercy and Jimenez's precinct in a sign of solidarity?

The idea took off.

In less than 12 hours, the five nurses from the two EDs collected about $2,000 in donations from their colleagues. On Tuesday morning, they contacted a friend with a catering business and ordered enough food to feed 150 people.

Durkin, Salvatori, Creighton, Kathleen Honkisz, RN, and Meghan Donahue, BSN, RN, loaded up a car and delivered the spread of pasta, sandwiches, salads, sides, desserts, and drinks that afternoon.

"We wanted to provide support to a fellow health care team in any way we could, as well as show our gratitude to the officers that put their lives on the line every day to keep us safe," said Donahue.

The group said they left humbled by the experience.

Back on the Hyde Park campus, leaders praised the five nurses, both ED teams, as well as other groups across the health system for their collaboration, compassion, and generosity during a particularly a stressful time.

"They really came together as a team and as a family to support one another," said Sonya DuCharme, BSN, RN, patient care manager in the adult ED.
Comer Children's patient care manager Shawn Pickett, MHA, BSN, RN, agreed.

"Our teams had so many points of connection, both inside our facility and out, with Mercy and the police," he said. "That made watching everyone pull together and push hard to make this happen really special."