Skip to content
Getting a job, growing a career: South Siders connect with campus employment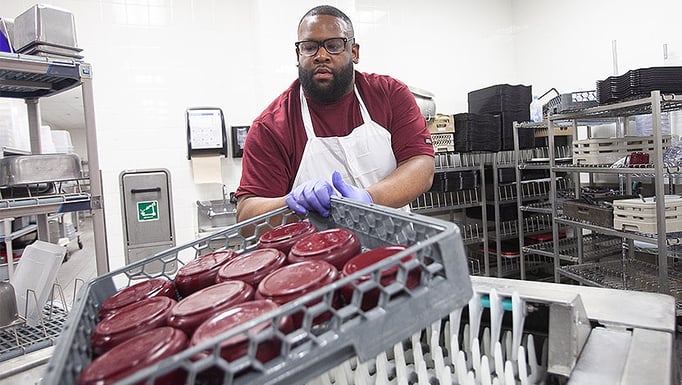 Corey Scott works as a dishwasher at UChicago Medicine's Center for Care and Discovery (CCD); workforce partner Skills for Chicagoland's Future helped connect Scott to the position.
The University of Chicago, including UChicago Medicine, is the largest employer on the South Side. In addition to highly skilled positions, there's also a need for large numbers of talented, dedicated employees for entry-level jobs. Making sure that South Side residents have a clear path to these jobs, plus opportunities to grow and advance, is a priority at UChicago.
To help get the right workers into the right roles, UChicago relies on community workforce partners who are experts in matching people and positions. These partners build strong relationships that remove barriers: Not only do they work closely with hiring managers all over the University and UChicago Medicine and understand just what they're looking for, but they also get to know the job seekers they serve and can help them get training, skills and certifications.
"Our partnerships with workforce organizations connect us with local talent who share our values and meet our expanding needs," said Betsy Rahill, senior consultant for talent strategy at UChicago Medicine. "We trust these specific partners because they've taken the time to understand what makes someone successful at UChicago Medicine."
Read more about workforce partners like Skills for Chicagoland's Future, including how they helped connect UChicago Medicine employees Qiana Dennis and Corey Scott to their current positions.
Community Outreach and Health Equity Articles