Skip to content
From vacant lots to flower farms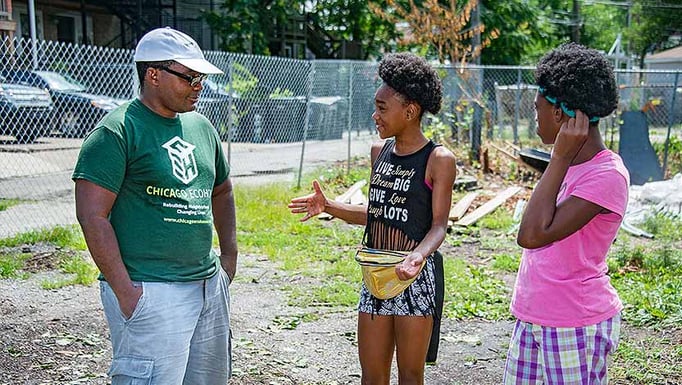 Chicago Eco House's Quilen Blackwell works with two young participants in the group's summer program.
Chicago Eco House works to create safe spaces through beautification and economic development in the Woodlawn and Englewood neighborhoods. In 2018, the group received of one of the University of Chicago Medicine's violence prevention and recovery summer grants. UChicago Medicine awarded more than $100,000 in grant funding in 2017 and 2018 to local community groups as part of its broader effort to address the public health crisis of intentional violence.
In Woodlawn, there are a lot of negative stereotypes. But people who live here want their community better, just like anyone else.
Through its summer programming, Chicago Eco House engaged 21 children and teens, along with 125 volunteers, to convert four vacant lots in West Woodlawn into a sustainable, social enterprise flower farm, as well as a neighborhood stage and community garden.
"We started Chicago Eco House as a creative solution to address the issues in the inner city, not as problems but assets that could induce bottom-up economic development," said founder and president Quilen Blackwell.
"At the same time, we wanted to do something that people in the community could actually see. Because, in the neighborhoods where we live, there are a lot of spaces where people don't feel comfortable walking."
While Chicago Eco House's core educational program is geared toward children and teens, Blackwell said that because of the visibility of the work, the entire community becomes involved in the effort — first, by asking questions and later, by taking part in hands-on tasks as well as community events at the garden.
"In Woodlawn, there are a lot of negative stereotypes. But people who live here want their community better, just like anyone else," said Blackwell. "Rather than leaving for other more resourced neighborhoods, the participants stay and help transform their blocks into the 'greener pasture.' And that's what we're trying to build here together."
Community Outreach and Health Equity Articles