Skip to content
Construction Partner Spotlight: Vision Painting and Decorating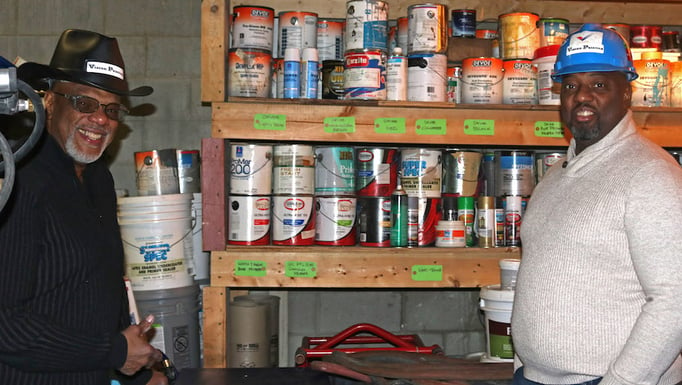 Edward McKinnie Sr. and Edward McKinnie Jr. in their south suburban warehouse with the machine used for spray-on fireproofing
University of Chicago Medicine has a history of construction diversity and inclusion. Businesses owned by minorities and women are integral to our long term goals of providing jobs and opportunities for our neighbors, while improving access to high quality health care in the Chicagoland area. As such, when UChicago Medicine sought to build out the 42,000 square foot River East Ambulatory Center, working with minority-and woman-owned business enterprises (MWBE) was of top priority.
"UChicago Medicine was never satisfied with just leveling the playing field, we've always wanted to take it a step further and help these firms grow," said Joan Archie, Executive Director of Construction Compliance.
Vision Painting and Decorating, a longtime construction partner worked on the River East Ambulatory Care Center. In the past, Vision Painting and Decorating supported projects like the Adult Emergency Department. After 20 years providing painting services across the Chicagoland area, the south suburban company's goal was to expand their services into spray-applied fireproofing. This common fireproofing technique provides heat resistance over steel, wood, fabric and other building materials.
"I've wanted to add fireproofing to our service offerings for the last 20 years, but because of the competition, I was never given the chance," said Edward McKinnie, Sr., Owner of Vision Painting and Decorating.
The minority-owned business was invited to bid on the fireproofing contract on the River East project and won.
"Now, spray-on fireproofing is no longer a dream, it's an accomplishment," McKinnie said. "Adding this service to our offerings will help secure the future of our company."
In addition to Vision Painting and Decorating, 25 other MWBEs worked on the River East project totaling $3.7 million in contracts. *
*Totals represent amount awarded and paid as of January 2019.