Skip to content
UChicago Medicine receives $6 million to prevent colorectal cancer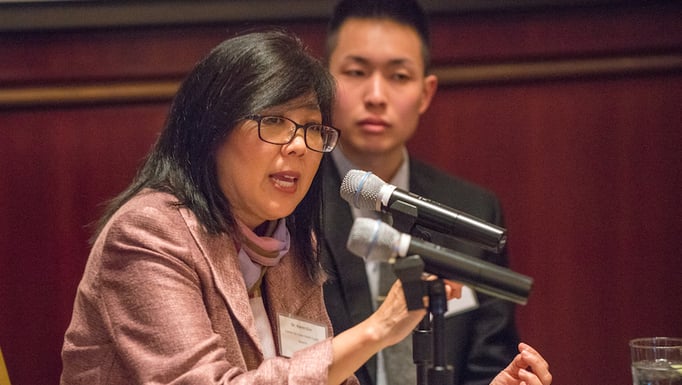 Karen Kim, MD, speaks at an event to launch the Center for Asian Health Equity in 2016
The University of Chicago Medicine's Center for Asian Health Equity (CAHE) is joining the National Cancer Institute's Beau Biden Cancer Moonshot Initiative to accelerate the pace of progress in the fight against cancer.
The National Cancer Institute (NCI) has established multiple mechanisms to fund Cancer Moonshot-related research. One of them is Accelerating Colorectal Cancer Screening and Follow-up through Implementation Science (ACCSIS). The ACCSIS Program will provide an evidence base for multilevel interventions that increase rates of colorectal cancer (CRC) screening, follow-up and referral-to-care. It will also establish best practices for how scale up interventions to reduce CRC.
As one of three grantees nationwide for colorectal cancer prevention, ACCSIS-Chicago—led by University of Chicago cancer specialists Karen Kim, MD, MS, and Blase Polite, MD, MPP—has been awarded nearly $6 million over five years to test novel ways to improve CRC screening and follow-up among groups that have not been screened.
CRC screening detects disease early. It can also prevent many cancers by finding and removing precancerous polyps.
The State of Illinois ranks in the lowest 25 percent for CRC screening in the United States and consequently has a high CRC incidence. Cook County, the most populous and diverse county in Illinois, has one of the highest CRC mortality rates in the state. It has significantly more African Americans, Hispanics and Asian Americans than any other county, and more people living close to of the poverty level.
In response, CAHE, under the guidance of director Kim, and Polite, an affiliated researcher at UChicago Medicine, will target underrepresented populations.
"We are thrilled to have this opportunity to study the implementation of evidence-based interventions to increase colorectal cancer screening among vulnerable populations," Kim said. "ACCSIS-Chicago has the potential to transform our understanding of the health system and community factors that enhance or impede colorectal screening and follow up."
CAHE will partner with four federally qualified health centers serving diverse and low-income populations. ACCSIS Chicago has a unique opportunity to have a significant and sustainable impact on reducing disparities in CRC. It provides a mechanism for establishing the research infrastructure necessary to find the best ways to test and implement scientific approaches to cancer control.