Skip to content

In the fall of 2012, Colleen Bokor was just 27 years old when, while on a business trip in Las Vegas, she performed a breast self-exam and discovered a suspicious lump in her right breast. Since she was young, in good health and had no family history of breast cancer, the devastating disease was the last thing she expected to happen. From miles away, her family tried to ease Bokor's mind: "It's probably fibrous tissue. Just focus on work." The following week, test results confirmed her worst fear: She was diagnosed with breast cancer.
The search for the right breast cancer team
At the recommendation of her primary care doctor, Bokor consulted a breast surgeon at a local hospital. However, she was not getting the care, attention and answers she needed as a new cancer patient.
"After the surgeon's recommendation for double mastectomy and total lymph node removal, I learned that I have triple negative breast cancer, which plays an important role in the type of treatment I receive," Bokor said. "So I asked this breast surgeon whether my triple negative diagnosis changes the treatment plan or if I should see an oncologist; he said no. I also asked him about neoadjuvant therapy and chemotherapy, and he was not available to answer my questions. Something about this [lack of communication] didn't feel right to me." Neoadjuvant chemotherapy is chemotherapy given before surgical treatment, with the goal of shrinking tumors and assessing response to therapy.
Bokor was diagnosed with triple negative breast cancer, an aggressive form of breast cancer in which the tumor is estrogen receptor-negative, progesterone receptor-negative and HER2-negative. Many common breast cancer treatments target these receptors, such as tamoxifen, which targets the estrogen receptor, and Herceptin (trastuzumab), which focuses on abnormally expressed HER2 receptors. A triple negative breast cancer diagnosis means the tumor will not respond to hormone therapies or drugs that target the HER2 overexpression, though other medicines are available.
I felt confident for the first time that she and her team were going to take care of me and craft the best plan for me.
Bokor had been searching high and low for the right breast surgeon for a month when, finally, a tip came through: Her mother's work acquaintance suggested Bokor go to the University of Chicago Medicine to see Nora Jaskowiak, MD, associate professor of surgery, for a second opinion. "At my consultation with Dr. Jaskowiak, I felt confident for the first time that she and her team were going to take care of me and craft the best plan for me: Colleen Bokor, age 27 with triple negative breast cancer," Bokor said.
A custom treatment plan includes an advanced clinical trial
At the consultation, Jaskowiak connected Bokor to medical oncologist Rita Nanda, MD, who would see her and her family the next day. "As a patient, I witnessed Dr. Jaskowiak make my appointment for the following day and explained my case to Dr. Nanda for me -- and that was life-changing," Bokor said.
Very soon after, Bokor was connected with other experts across the spectrum of breast cancer care. These experts collaborated very closely on Bokor's unique cancer case, discerning which treatments were best suited for her, including a leading-edge clinical trial called I-SPY 2.
The I-SPY 2 clinical trial is a unique option that tests whether adding one of five investigational drugs to standard chemotherapy is better than standard chemotherapy alone prior to having breast cancer surgery. Principal investigators hope the trial will help researchers more deeply understand how neoadjuvant therapy can be tailored to unique tumor characteristics and improve the pathological response of breast tumors in women. The clinical trial is the first of its kind, and UChicago Medicine is only one of two hospitals in Illinois recruiting patients to this novel trial.
"For me, it was not about getting Colleen into this clinical trial. It was about figuring out which route was best for her," Jaskowiak said. "Colleen's journey until that point left an impression on me, and I was going to make sure our team would do everything we could, clinically and emotionally, for her and her family."
We truly approach each patient as an individual -- as a unique person with a unique cancer situation.
Six months after starting the I-SPY 2 trial, physical exam and MRI scans showed Bokor had an excellent response to neoadjuvant therapy. Later pathology results revealed negative sentinel lymph nodes and a near-complete pathologic response to treatment. Because geneticists at UChicago Medicine discovered Bokor has a genetic mutation, the entire team including Bokor decided to proceed with mastectomy plus reconstruction. Jaskowiak performed the case in May 2013. Bokor is now free of disease.
Excellence in breast cancer care
UChicago Medicine has a long history of excellence in breast cancer care. The team offers the full range of surgical options, including standard mastectomy, skin- and nipple-sparing mastectomy, lumpectomy as well as axillary surgery, including sentinel node biopsy and complete axillary dissection. However, every cancer case is unique, and the breast surgeons at UChicago Medicine aren't afraid to suggest that nonsurgical options may be the way to start for some women.
"We truly approach each patient as an individual -- as a unique person with a unique cancer situation," Jaskowiak said. "Many treatment options and sequences are considered, and the best one is chosen with the patient."
That's where the multidisciplinary approach makes a difference. Our subspecialty experts in surgery, oncology, reconstruction, pathology and radiology are all well-respected physicians in their own right, working as a cohesive unit to make the delivery of cancer care that much more powerful. Their combined expertise means breast cancer patients truly receive the best care possible.
A new lease on life after breast cancer
It's been almost six years since Bokor found out her breast cancer diagnosis. Since her treatment at UChicago Medicine, Bokor, compelled to take action after her cancer experience, left her corporate job and went back to school to pursue a career in nursing. In December 2017, she graduated from nursing school at the University of Illinois at Chicago.
At the University of Chicago Medicine, I didn't feel like I was at another cookie cutter hospital.
"I feel rejuvenated about what my future can hold, and working towards this new goal in nursing is helping me keep fears of recurrence at bay," Bokor said. "It all ties back to taking my experience with cancer and changing myself in a positive way."
Looking back, what Bokor cherishes most about her experience at UChicago Medicine was the special attention she received as a patient.
"At the University of Chicago Medicine, I didn't feel like I was at another cookie cutter hospital. All my doctors were very much in sync, marching toward the same goal, and, as a patient, their constant collaboration helps you feel confident," Bokor said. "You're making major decisions about your body and life, and you have this team that has your back and best interest in mind."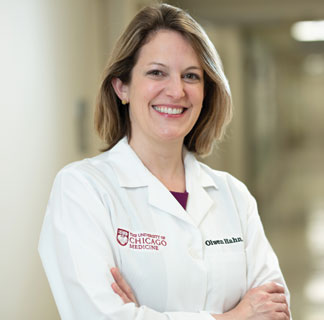 Breast Cancer Care
Our team represents expertise across the spectrum of breast cancer care: breast imaging, breast surgery, medical and radiation oncology, plastic and reconstructive surgery, lymphedema treatment, clinical genetics, pathology and nursing. Our comprehensive care approach optimizes chances of survival and quality of life.
Learn more about UChicago Medicine breast cancer care.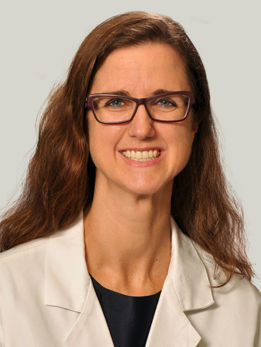 Nora Jaskowiak, MD
Nora Jaskowiak, MD, is an expert in breast surgery and breast cancer, and also specializes in the surgical management of endocrine disorders, including thyroid cancer and parathyroid conditions. She serves as surgical director of UChicago Medicine's Breast Center.
View Dr. Jaskowiak's physician profile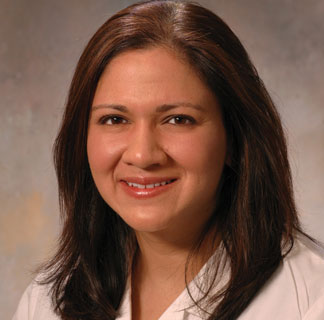 Rita Nanda, MD
Rita Nanda, MD, specializes in the treatment of breast cancer. She has particular expertise in the treatment of triple-negative, early onset, hereditary, and locally advanced breast cancers.
Read Dr. Nanda's profile