Skip to content
Lymphedema surgery keeps breast cancer survivor's painful reminder at bay
Lymphedema surgery after breast cancer
For Jacquetta Christodolos of Custer Park, Ill., breast cancer was the easy part.
About a year after her cancer treatment concluded in early 2014, she developed a chronic, painful swelling in her arm and fingers called lymphedema. The condition, which can affect breast cancer patients after they've had lymph nodes removed or damaged during radiation, is the result of lymphatic fluid that cannot drain properly. Instead, the fluid builds up in various parts of the body.
Christodolos tried to combat the swelling with various compression garments and physical therapy, but the non-surgical options offered little help. Her arm and fingers swelled to about 20 percent larger than their normal size, and ability to tend to her 10 acres of farmland – including 100 chickens and an expansive vegetable garden – was severely hampered.

"For me, lymphedema was worse than the cancer. It made me feel unhappy all the time because I could hardly bend my fingers because of the tightness," she said. "I thought to myself, 'I don't know if I can go through this every day.'"
For me, lymphedema was worse than the cancer. It made me feel unhappy all the time because I could hardly bend my fingers because of the tightness.
In 2013 Christodolos' local physician diagnosed her with ductal carcinoma in-situ, an early form of breast cancer that is confined to the layer of cells where it began. She had a mastectomy in early 2014 and then was referred to a medical oncologist at the University of Chicago Medicine Comprehensive Cancer Center at Silver Cross Hospital in New Lenox, Ill.

The medical oncologist coordinated Christodolos' care as she underwent a year of chemotherapy and radiation. Though the breast cancer went in to remission, Christodolos' lymphedema was unrelenting. Her medical oncologist recommended that Christodolos see David Chang, MD, chief of plastic and reconstructive surgery at UChicago Medicine and a pioneer in the treatment of lymphedema.

Chang performed a lymph node transfer combined with breast reconstruction in 2015 to combat Christodolos' lymphedema, bringing healthy lymph nodes from another part of her body to the site near her arm where the lymph nodes had been damaged during cancer treatment.

"The lymph node transfer can help repair damaged lymphatic system by re-establishing connection with the open lymphatic vessels over time," Chang said.

The thought of yet another surgery made Christodolos wary, but she couldn't continue to live with the pain and disfigurement of lymphedema. After consulting with Chang, she felt much more at ease and confident that he had the skills and expertise to tackle her condition.

"It was well worth it, and I'm glad I had it done," said Christodolos, whose lymphedema has been kept completely at bay in the two years since her procedures. She has not experienced any side effects. "It feels good to have great doctors behind you."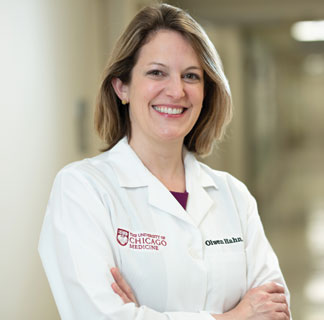 Breast Cancer Care
Our team represents expertise across the spectrum of breast cancer care: breast imaging, breast surgery, medical and radiation oncology, plastic and reconstructive surgery, lymphedema treatment, clinical genetics, pathology and nursing. Our comprehensive care approach optimizes chances of survival and quality of life.
Learn more about UChicago Medicine breast cancer care.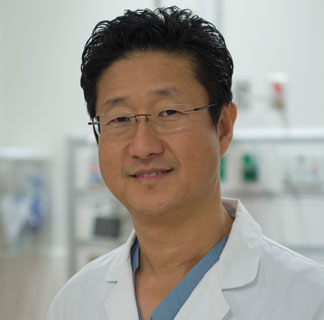 David W. Chang, MD
David W. Chang, MD, specializes in complex microsurgical reconstructive surgery in cancer patients, and has an international reputation as a pioneer and an innovator in the field of breast reconstruction, head and neck reconstruction, extremity reconstruction and microsurgical treatment of lymphedema.
Learn more about Dr. Chang