Skip to content
Stopping cancer before it starts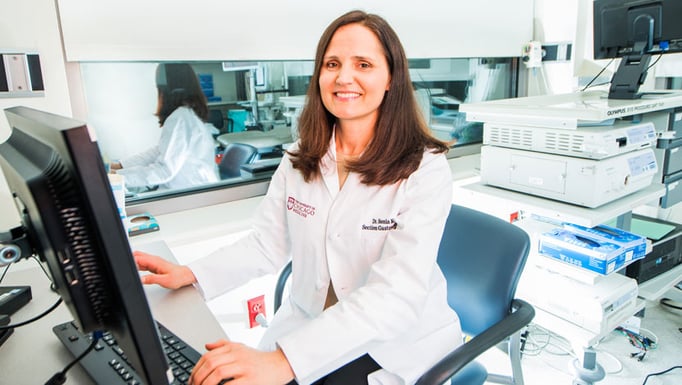 There are many factors that can increase a person's risk of developing certain cancers including age, lifestyle, and genetics, to name a few. Though it is not possible to identify the exact cause for most cancers, scientists continue to identify risk factors that may play a role.
At the University of Chicago Medicine, the Comprehensive Cancer Risk and Prevention Clinic is dedicated to identifying and caring for individuals who have an increased risk of cancer due to family history, or medical and genetic factors. Founded in 1992, the Clinic was the first in Illinois to provide comprehensive preventative services and is currently led by Olufunmilayo Olopade, MD, Walter L. Palmer Distinguished Service Professor of Medicine and Human Genetics, Sonia Kupfer, MD, assistant professor of medicine, and Jane Churpek, MD, assistant professor of medicine.
Today, more than 3,000 patients are closely monitored for the very earliest signs of breast, ovarian, and gastrointestinal cancers. These patients include both cancer survivors with a high risk of recurrence and individuals with a family history or personal genetic profile that makes them more vulnerable to the disease.
Olopade is an expert in breast cancer risk, and has identified breast cancer mutations in African families that are distinct from those found in Caucasian women, transforming screening and treatment in Africa and beyond. Her research team also made the seminal discovery that the majority of African women diagnosed with breast cancer have triple-negative tumors (a type of breast cancer that is aggressive and hard to treat).
Kupfer researches colon cancer risk in individuals with inflammatory bowel disease and in AfricanAmerican families with inherited predisposition. In one study,1 she and her colleagues characterized the specific mutations and risk for colorectal cancer in African Americans with a genetic condition called Lynch syndrome, identifying new mutations and cancer risk factors for this population.
Churpek and Lucy Godley, MD, PhD, professor of medicine, offer personalized risk assessment to patients and families who may be at an increased risk for developing hematologic (blood) malignancies compared to the general population due to genetic factors. Through the Clinic, they provide genetic testing, cancer prevention counseling and strategies, and long-term follow-up of individuals with known or suspected familial myelodysplastic syndrome (MDS) and acute leukemia syndromes.
Churpek, Godley, and collaborators are focusing their research efforts on identifying and studying gene mutations associated with inherited forms of MDS and acute leukemia. Through research and patient assessment, the Clinic continues to help patients stop cancer before it starts.