Skip to content
Nurse navigators light the way for cancer patients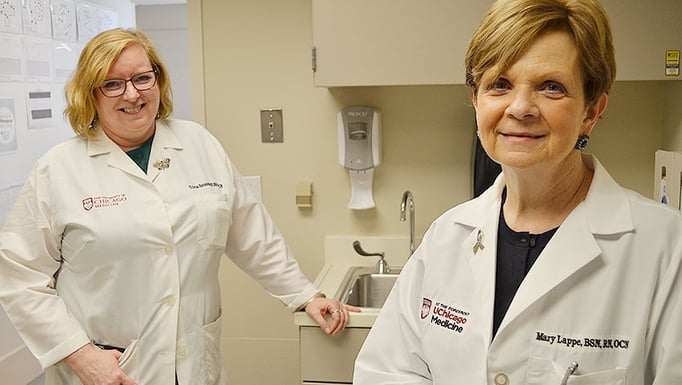 Cancer nurse navigators Tricia Heinlen, BSN, RN, (left) and Mary Lappe, BSN, RN, OCN (right)
Kevin Tennenbaum just graduated from college and started a new job in technology sales when he was diagnosed with large B cell lymphoma.
To say the least, he was overwhelmed. Then, he met Mary Lappe, BSN, RN, OCN.
"She made sure everything was set up, and the timeline was clear. She basically helped run everything to make sure we could start right away," Tennenbaum recalled. "Throughout my treatments, she was always calling to check on me and she was always there when I was at the hospital for an appointment. She's very comforting."
Lappe is one of the University of Chicago Medicine's nurse navigators. They light their patients' way through complex care plans using clinical knowledge, evidence-based practice and collaborative skills.
For Linda Campbell, an Ottowa grandmother diagnosed with large B cell lymphoma in July 2017, Lappe made Campbell feel like she was her only patient.
"I absolutely love what I do, because everyone is different. Every treatment is different. The treatments affect every patient differently. That is the beauty of this role. You are the conduit to all things."
"I feel like she became a friend. Every time I saw her, I would have to hug her and say, 'Mary, thank you. Thank you so much.' She made everything so much easier," Campbell said.
Chemotherapy is typically an outpatient treatment. Because Campbell lives almost two hours from the hospital, Lappe worked with Campbell's health insurance to request coverage for Campbell to stay overnight during her chemotherapy treatments. Lappe also organized a home health nurse, worked with colleagues across the medical campus to help coordinate Campbell's labs, IV therapy, blood infusions, and conversations with nutritionists, radiologists and pharmacists.
Lappe checked in often throughout Campell's six months of treatment.
"She would always say, 'If you need me — call.' But she wouldn't wait for me to call. She would call back and check on me," Campbell said.
"I absolutely love what I do," said Lappe. "Because everyone is different. Every treatment is different. The treatments affect every patient differently. That is the beauty of this role. You are the conduit to all things. When we meet a new patient, and the patient gets our card, that begins our journey together. Whatever follows, we have a wonderful network, and we figure out what they need."
Lappe and Tricia Heinlen, BSN, RN, a head and neck cancer nurse navigator, consult with clinicians across the medical center to design treatment plans. Next, those plans are put into action as they work with IV therapy nurses and techs to schedule chemotherapies and MRI scans around their patients' schedules. Throughout the months of therapies, the navigators work to keep treatment plans moving forward and agile. As appointments for labs and scans arise, they debrief their colleagues on their patients' status, attend their patients' appointments and escalate orders, if need be.
"We're the keepers of time in that respect," Heinlen said.
There are two things Heinlen enjoys the most about her job: telling her patients they are cancer free, and pulling the right people in the right room to help make that happen. To Heinlen, it's a coveted web of expert clinicians, techs, lab specialists, registrars and a mountain of countless staff who comprise her patients' experiences and outcomes at UChicago Medicine.
Colleagues often say, "Ask Tricia, she's got a guy."
One of her "guys" is Megan Hammerstein, BSN, RN, a fellow nurse in radiology and oncology, who says Heinlen is "the definition of advocacy" for their patients with head and neck cancer.
"People are coming here for a reason. It can be tough for them to get through it all. That's why we're here."
"She will plead her case with doctors' and other multidisciplinary specialties. She speaks up for the patient's rights," Hammerstein said. "She has a fervor for compassion and caring. She makes it abundantly clear that she is here and always willing to help. Not only does she have a lot to offer our patients, but she also has an abundance of knowledge and resources to share with her peers. I am truly proud to call her my colleague and my friend."
In addition to navigating the health system on behalf of her patients, Heinlen dedicates herself to managing her patients' symptoms and side effects from treatment.
"We do a lot of triage over the phone or in clinic," she said. "We often check in to ask our patients if they are eating, drinking and if their pain is managed. Just recently, I asked a patient to come back into clinic after talking with her on the phone about her pain. We discussed it further and we were able to manage her symptoms better."
Educating her patients throughout their treatments is also key, said Heinlen.
"We discuss what you can expect, how often you will be here, side effects, what exactly happens during a scan — we're doing all of that nitty gritty. We live in the details," Heinlen said. "It's a very complicated world that people enter when they are starting a cancer treatment. It's very overwhelming. People are coming here for a reason. It can be tough for them to get through it all. That's why we're here."