Skip to content
Michelle M. Le Beau elected to the American Cancer Society Board of Directors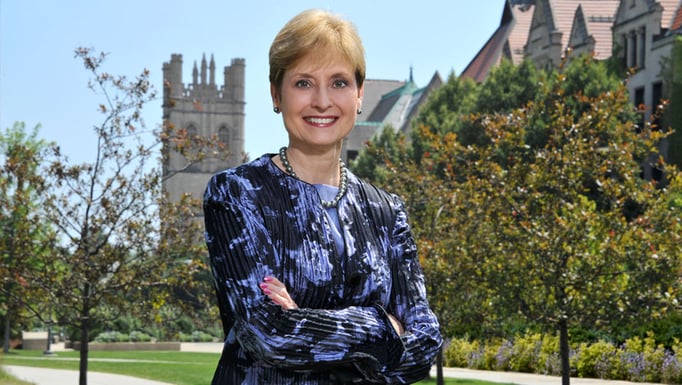 The American Cancer Society has named Michelle M. Le Beau, PhD, director of the University of Chicago Medicine Comprehensive Cancer Center, to its board of directors, with a term beginning on Jan. 1, 2019.
Directors are elected for a two-year term. The all-volunteer board is responsible for setting policy, establishing long-term goals, monitoring general operations, and approving the organizational outcomes and allocation of resources.
"I am honored to join the board of the American Cancer Society – a key partner in the global fight against cancer," said Le Beau. "I look forward to working with ACS leadership on our shared mission of supporting innovative, practice-changing cancer research, preventing cancer, and improving the quality-of-life of those facing cancer."
In addition to her role as the director of a National Cancer Institute-designated Comprehensive Cancer Center, Le Beau is the Arthur and Marian Edelstein Professor of Medicine and director of the Cancer Cytogenetics Laboratory at the University of Chicago. She is board-certified in clinical cytogenetics by the American Board of Medical Genetics and Genomics. She is also a member of the National Cancer Policy Forum of the National Academy of Medicine.
Election to the board adds to Le Beau's long list of service and recognition by the American Cancer Society, including serving on the Illinois Division Board of Directors (2008-2011), serving as the Principal Investigator for the University of Chicago's Institutional Research Grant since 2009, and receiving the Distinguished Service Award (2008).
Le Beau joins two other newly elected board members, including Mark A. Goldberg, MD, from Brigham & Women's Hospital and Harvard Medical School in Boston and Terri McClements, the Mid Atlantic Managing Partner of PricewaterhouseCoopers LLP (PwC) in McLean, VA.
"We are pleased to announce all of our new and returning Board members that continue to make cancer a priority and help attack cancer from every angle," said Daniel P. Heist, 2019 chair of the Board. "The esteemed members of our Board bring unique perspectives and expertise to the organization and are critical to helping the American Cancer Society continue its mission to lead the fight for a world without cancer."