Skip to content
Lymphedema microsurgery gives retired nurse her life back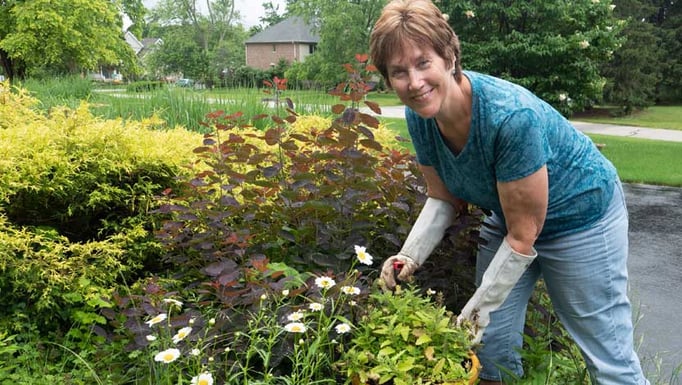 After successful surgery to treat lymphedema, retired nurse Ellen Szelina is back to doing the things she loves, such as gardening.
The rose bushes in Ellen Szelina's back yard needed to be pruned, a job the retired Willowbrook nurse always enjoyed doing herself.
But after her 2011 treatment for breast cancer, she developed lymphedema in her left arm — severe, chronic swelling that sometimes occurs after lymph node removal or radiation treatment. The constant threat of infection from something as small as a cut or an accidental bump made her afraid to do many of the things she loves, like gardening, traveling or playing with her dog.
No matter how careful she was, Szelina's lymphedema regularly triggered infections that were accompanied by a high fever and painful swelling in her arm and hand. Each time, she'd have to spend a few days in the hospital getting IV antibiotics.
"It was always in the front of my mind, because when I got sick, I got really sick really fast," she said. "I thought, 'Well, I guess this is how it's gonna be, and I have to deal with it.'"
Then, in 2014, she read about David W. Chang, MD, chief of plastic and reconstructive surgery at the University of Chicago Medicine and a world-renowned lymphedema microsurgeon.
I hope, by sharing my story, I can help someone else find their happy ending.
Chang pioneered a unique, complex surgery for lymphedema patients that reroutes the lymphatic system around damaged lymph nodes. He performs the surgery under a special microscope and uses super-fine instruments to reconnect tiny lymphatic and blood vessels almost invisible to the naked eye. The surgery allows the lymph fluid to drain again instead of accumulating, resulting in significantly less swelling and lower risk of infection.
Eventually, after a few more hospitalizations, Szelina reached out to Chang.
"I thought, 'maybe I can do this and I won't have to worry about my arm?'" she said. "It couldn't have been a more perfect fit."
Her surgery in 2016 was successful, and Szelina is back to doing the things she loves. She no longer has infections or needs daily antibiotics to prevent them. In June, she and her family rode mules down into the Grand Canyon — something she'd never dared to do before the surgery.
"It changed everything for me and my family," she said.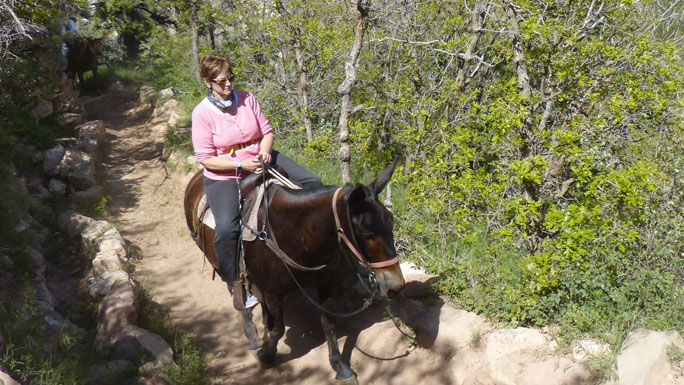 Chang stressed that the surgery isn't for everyone and won't cure lymphedema, but can significantly improve a patient's quality of life. UChicago Medicine is one of just a few centers in the country offering lymphovenous bypass and lymph node transfer. Patients have come from all over the world for these innovative surgical procedures.
"The earlier the intervention, the better," Chang said. "You will still have to live with the condition for the rest of your life. It's just a lot easier to deal with."
For Szelina, it was a perfect solution.
"I kind of thought there weren't any other options for me, until I found this," said Szelina, 60, a mother of two. "I hope, by sharing my story, I can help someone else find their happy ending."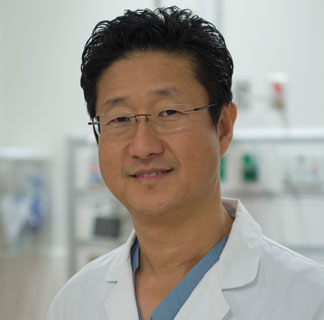 David W. Chang, MD
David W. Chang, MD, specializes in complex microsurgical reconstructive surgery in cancer patients, and has an international reputation as a pioneer and an innovator in the field of breast reconstruction, head and neck reconstruction, extremity reconstruction and microsurgical treatment of lymphedema.
Learn more about Dr. Chang
Request an Appointment
The information you provide will enable us to assist you as efficiently as possible. A representative will contact you within one to two business days to help you schedule an appointment.
You can also make an appointment with our providers by:
– Scheduling a virtual video visit to see a provider from the comfort of your home
– Requesting an online second opinion from our specialists
To speak to someone directly, please call 1-888-824-0200. If you have symptoms of an urgent nature, please call your doctor or go to the emergency room immediately.