Skip to content
​Improving health care for All of US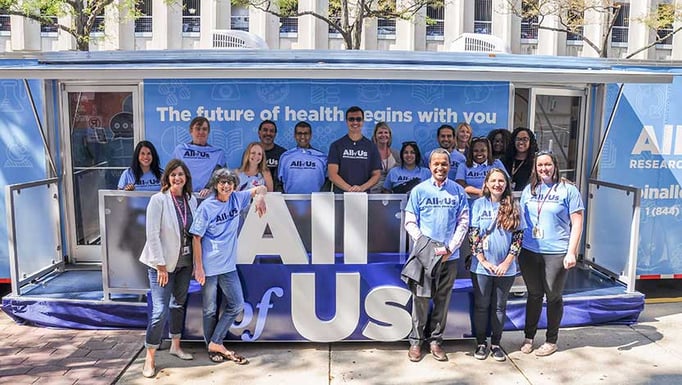 The future of health care may soon depend on the kindness of strangers. One million or so very generous people, all willing to contribute personal health data voluntarily for decades, will drive the data collection and research that could lead to better health for hundreds of millions of people.
This project, a novel approach to "precision medicine," is based on advances, some rapid and some slow, in biomedical research. The goal is to bring precision, or something like it, to the vague, complex, ever-shifting field of health care, with special emphasis on fields such as genomics and bioinformatics that few people outside those fields know much about.
The core element of precision medicine is the All of US Research Program, led by the National Institutes of Health (NIH) in collaboration with more than 100 partner organizations. They have already begun to recruit the kind and generous strangers who are willing to contribute their valuable personal data.
Nearly 10 percent of those people will come from Illinois. UChicago Medicine and affiliated partners, including Rush University Medical Center and the NorthShore University Health System, hope to enroll nearly one-third of those, more than 30,000 volunteers. Teams based at Northwestern University and the University of Illinois at Chicago are also major recruitment centers. The information these volunteers provide should, over time, help enhance prevention and treatment for the multitude of diseases we all face, in ways that could boost the average wellbeing of every American.
"Through All of US, we are creating a research engine of comprehensive data on 1 million people," said Habibul Ahsan, MD, director of the University of Chicago Medicine's Institute for Population and Precision Health, a newly established entity that aims to bring modern precision medicine discoveries to public health. "These volunteers will share their unique biological data, fill out histories of good and bad behavior, chart current and past illnesses, and donate blood and urine samples."
For this, they get $25, plus the pride of helping mankind.
Ordinary people willing to contribute
This NIH project seeks contributors from all walks of life. Data from these volunteers — ordinary people willing to contribute detailed information about their lifestyles — could lead to better health care.
All of US, according to the NIH, is designed to "harness health-related information on a larger scale than ever before." The increasing accessibility of electronic health records, wearable devices that measure heart rate or daily step counts, smartphones, plus more sophisticated tools such genetic sequencing, will provide much of this data.
"This sort of information — about diet, exercise, genetics, even things like sleep, education and friendships — helps us understand the complex interactions of behavioral, biological, environmental and socioeconomic factors," said Ahsan. "This should foster interventions that could lead to better health for everyone involved."
Decreasing Disparities
Much of the UChicago Medicine's focus will be on people who might have been overlooked by previous studies, those with limited resources who may not have benefitted from earlier studies.
"This is one of our strengths," Ahsan explained. He also directs two complementary projects, the Chicago Multiethnic Prevention and Surveillance Study, known as COMPASS, and the Chicago Center for Health and Environment (CACHET). These recently launched projects focus on financially disadvantaged racial and ethnic groups that are at higher risk of environmental exposures and diseases such as cancer, heart disease, diabetes or other chronic and lethal maladies.
Such disparities remain poorly understood, which makes intervention even more challenging. "They appear to be particularly prevalent in Chicago," Ahsan said. These projects were designed to understand and then alter the cycle.
The COMPASS project, for example, began recruiting study participants from 40 Chicago neighborhoods in 2016. The initial phase called for 10,000 volunteers, but the researchers now hope to recruit up to 100,000 people. This study, like All of US, also calls for blood and urine samples and has complementary research goals, but the primary focus of COMPASS is on individuals living across the city, not just those who come to hospitals. COMPASS staff reach out to eligible households in the sampled communities through door-to-door visits. Findings from these projects could help physicians and public health practitioners improve health outcomes and reduce disease risks for patients and the general population.
Taking part in All of US is simple. To enroll, visit JoinAllofUs.org. You can contribute your health information to the project online. Some volunteers will also be asked to visit a local partner site to provide physical measurements, height, weight, cholesterol levels, etc., and blood and urine samples. Every piece of health information contributed is secure and will be important to the success of this national endeavor.