Skip to content
Genomic Data Commons at UChicago heralds new era of data sharing for cancer research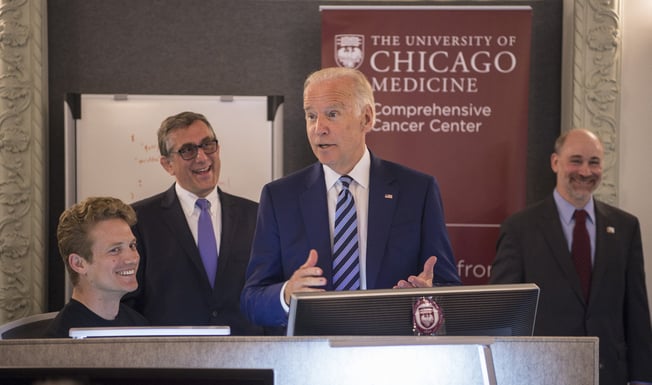 Vice President Joe Biden talks with from left: Jeremiah Savage, MS, Ken Onel, MD, PhD, and Prof. Robert Grossman, PhD, Department of Medicine and the College and Senior Fellow with the Computation Institute, as the vice president toured the NCI Genomic Data Commons (GDC), a system designed and developed by the Center for Data Intensive Science at the University of Chicago and presented Monday, June 6, 2016, at their office in the Shoreland in Chicago. (Photo by Robert Kozloff)
The Genomic Data Commons (GDC), a next-generation platform that enables unprecedented data access, analysis and sharing for cancer research, publicly launched at the University of Chicago today, opening the door to discoveries for this complex set of diseases.
The GDC went live with approximately 4.1 petabytes of data from National Cancer Institute-supported research programs, including some of the largest and most comprehensive cancer genomics datasets in the world -- such as The Cancer Genome Atlas and Therapeutically Applicable Research to Generate Effective Treatments -- and more than 14,000 anonymized patient cases. One petabyte equals 1 million gigabytes.
Vice President Joe Biden toured the GDC operations center at the University of Chicago in advance of his appearance to announce the project at the annual meeting of the American Society for Clinical Oncology.
"I can't tell you how excited I am about this," said Biden, as he toured the facility and spoke with UChicago cancer researchers, including Robert Grossman, PhD, principal investigator for the GDC and director of the Center for Data Intensive Science at UChicago.
"We desperately need the American people to fund this in a big way," Biden said.
The GDC becomes a core component of the National Cancer Moonshot, headed by Biden, and the President's Precision Medicine Initiative. Read more about the GDC from the National Cancer Institute, and visit our newsroom for more details on this historic announcement.
VP Joe Biden attends GDC launch
Vice President Joe Biden arrives to launch the NCI Genomic Data Commons (GDC), a system designed and developed by the Center for Data Intensive Science at the University of Chicago and presented Monday, June 6, 2016, at their office in the Shoreland in Chicago. (Photo by Robert Kozloff)
VP Joe Biden attends GDC launch
Vice President Joe Biden greets Kenneth Polonsky, MD, executive vice president for Medical Affairs, as he arrives to launch the NCI Genomic Data Commons (GDC), a system designed and developed by the Center for Data Intensive Science at the University of Chicago and presented Monday, June 6, 2016, at their office in the Shoreland in Chicago. (Photo by Robert Kozloff)
VP Joe Biden attends GDC launch
Vice President Joe Biden greets Kenneth Polonsky, MD, executive vice president for Medical Affairs, and Prof. Robert Grossman, MD, right, Department of Medicine and the College and Senior Fellow with the Computation Institute, as he arrives to launch the NCI Genomic Data Commons (GDC), a system designed and developed by the Center for Data Intensive Science at the University of Chicago and presented Monday, June 6, 2016, at their office in the Shoreland in Chicago. At left is Douglas Lowy, MD, acting director of the National Cancer Institute. (Photo by Robert Kozloff)
VP Joe Biden attends GDC launch
Vice President Joe Biden talks with Prof. Robert Grossman, MD, Department of Medicine and the College and Senior Fellow with the Computation Institute, and Louis M. Staudt, MD, PhD, with the NCI, as they launch the NCI Genomic Data Commons (GDC), a system designed and developed by the Center for Data Intensive Science at the University of Chicago and presented Monday, June 6, 2016, at their office in the Shoreland in Chicago. (Photo by Robert Kozloff)
VP Joe Biden attends GDC launch
Vice President Joe Biden talks with Prof. Robert Grossman, MD, Department of Medicine and the College and Senior Fellow with the Computation Institute, and Louis M. Staudt, MD, PhD, with the NCI, as they launch the NCI Genomic Data Commons (GDC), a system designed and developed by the Center for Data Intensive Science at the University of Chicago and presented Monday, June 6, 2016, at their office in the Shoreland in Chicago. (Photo by Robert Kozloff)
VP Joe Biden attends GDC launch
Vice President Joe Biden talks with Prof. Robert Grossman, MD, Department of Medicine and the College and Senior Fellow with the Computation Institute, and Louis M. Staudt, MD, PhD, right, with the NCI, as they tour the NCI Genomic Data Commons (GDC), a system designed and developed by the Center for Data Intensive Science at the University of Chicago and presented Monday, June 6, 2016, at their office in the Shoreland in Chicago. (Photo by Robert Kozloff)
VP Joe Biden attends GDC launch
Vice President Joe Biden thanks Josh Miller, software engineer, with Allison Heath,PhD, technical director of the GDC, as he tours the NCI Genomic Data Commons (GDC), a system designed and developed by the Center for Data Intensive Science at the University of Chicago and presented Monday, June 6, 2016, at their office in the Shoreland in Chicago. (Photo by Robert Kozloff)
VP Joe Biden attends GDC launch
Vice President Joe Biden talks with Barbara Stranger, PhD, Piers Nash, right, both with GDC, as the vice president toured the NCI Genomic Data Commons (GDC), a system designed and developed by the Center for Data Intensive Science at the University of Chicago and presented Monday, June 6, 2016, at their office in the Shoreland in Chicago. (Photo by Robert Kozloff)
VP Joe Biden attends GDC launch
Vice President Joe Biden talks with Zhenyu Shang, PhD, and Sue Cohn, MD, as the vice president toured the NCI Genomic Data Commons (GDC), a system designed and developed by the Center for Data Intensive Science at the University of Chicago and presented Monday, June 6, 2016, at their office in the Shoreland in Chicago. (Photo by Robert Kozloff)
VP Joe Biden attends GDC launch
Vice President Joe Biden tours the NCI Genomic Data Commons (GDC), a system designed and developed by the Center for Data Intensive Science at the University of Chicago and presented Monday, June 6, 2016, at their office in the Shoreland in Chicago. (Photo by Robert Kozloff)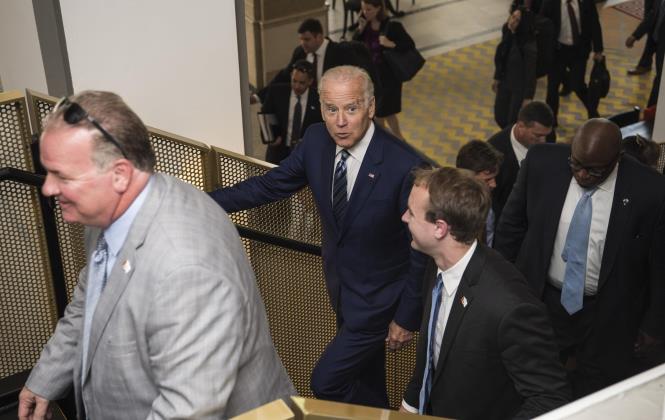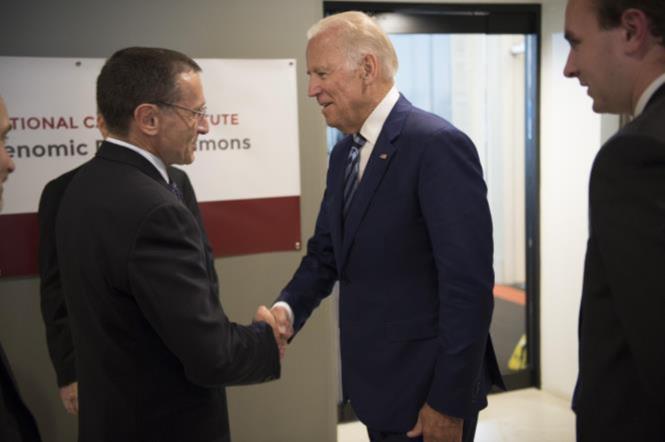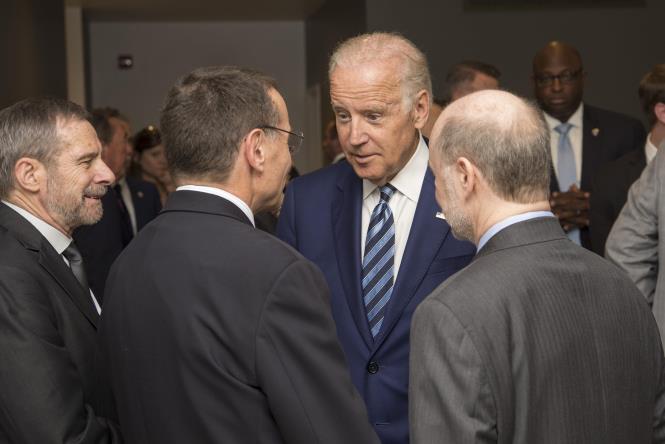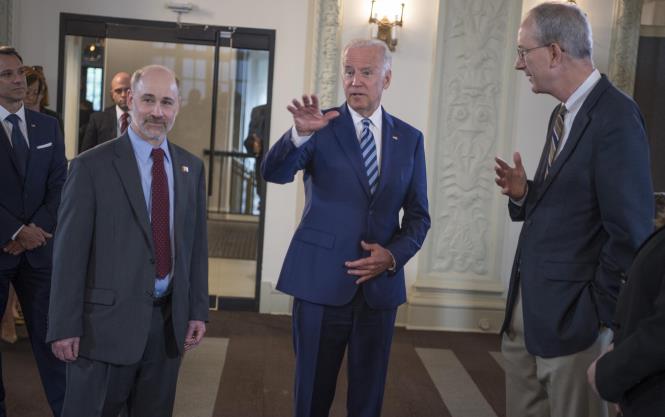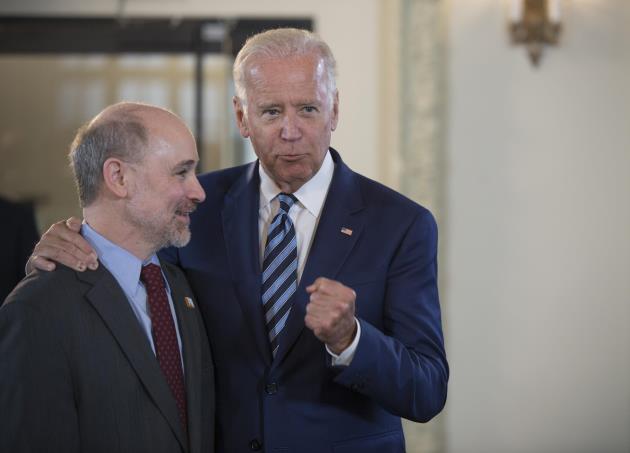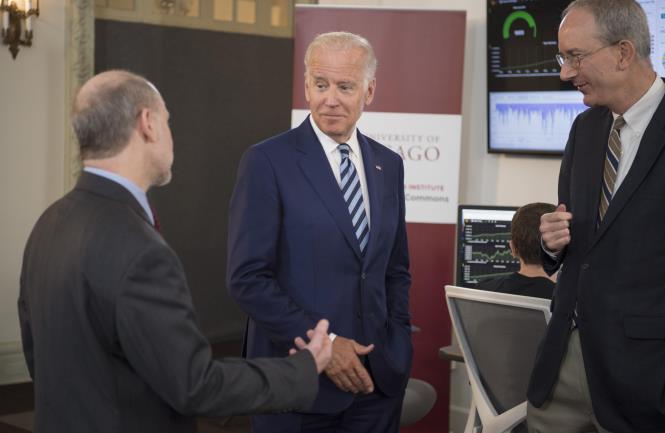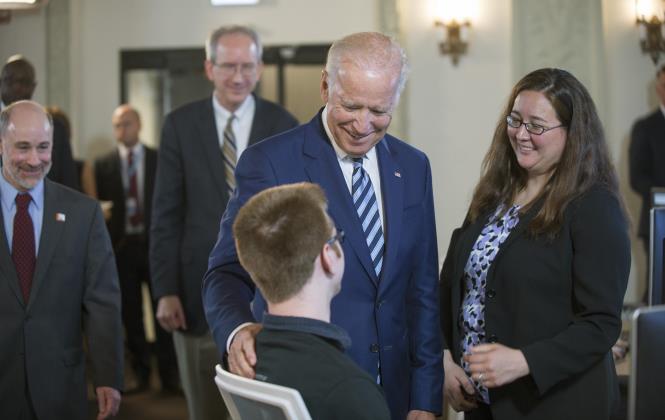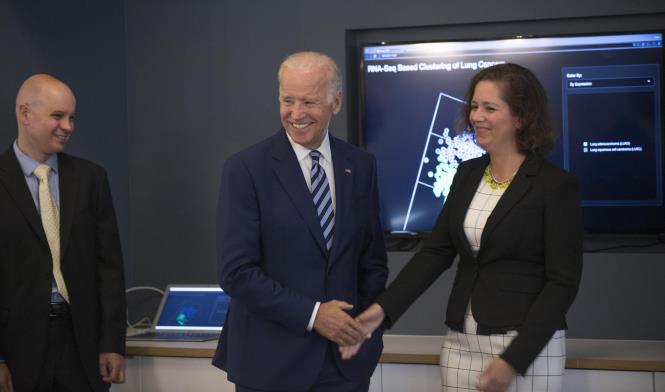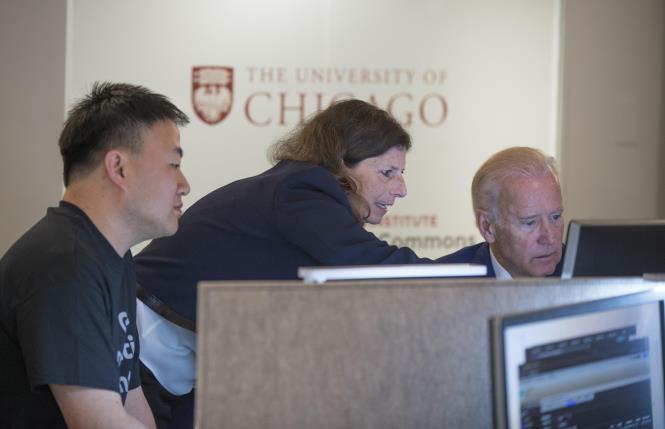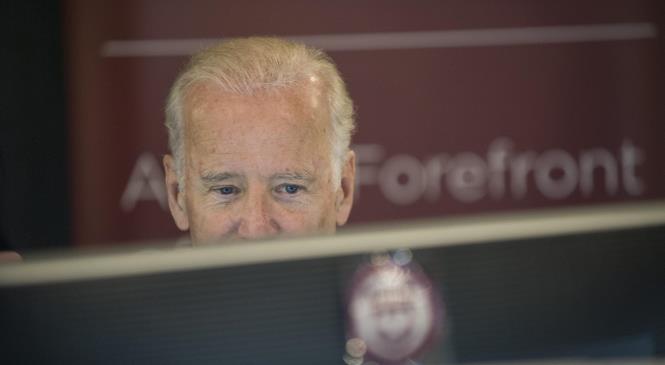 Cancer and Research Articles