Skip to content
Chicago students to get hands-on cancer research experience through $1.9 million grant to UChicago Medicine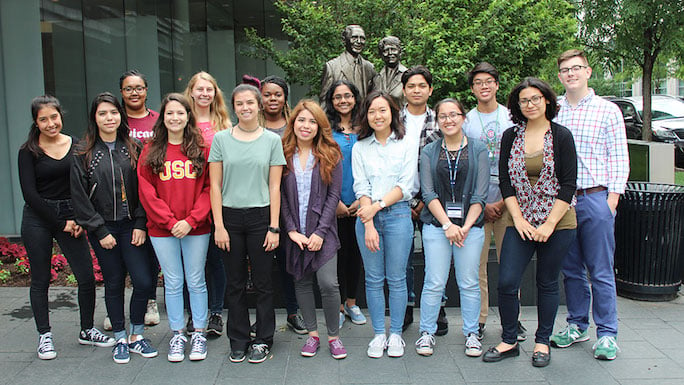 For many high school students, a summer job means bussing tables, bagging groceries or being a camp counselor. But next summer, 25 students in Chicago will get a chance to conduct hands-on research through a new program at the University of Chicago Medicine Comprehensive Cancer Center (UCCCC).
UCCCC received a $1.9 million grant over the next five years from the National Cancer Institute (NCI) to launch Chicago EYES (Educators and Youth Enjoy Science) on Cancer, a two-year program to provide immersive laboratory and research training for high school and undergraduate students.
The program targets students with backgrounds that are underrepresented in the sciences: racial/ethnic minorities, economically disadvantaged, first-generation college-bound or living with a disability. It will also provide training for high school teachers and science educators through partnerships with Chicago Public Schools (CPS) and the Museum of Science and Industry.
"We're very excited to offer this program," said Megan Mekinda, PhD, Assistant Director for Cancer Education at UCCCC. "Programs like this are precious because so few can offer this level of hands-on training for students this age. These young people will be immersed in a professional work environment, doing real work in a real laboratory. That's an incredibly powerful experience as they consider their goals for the future and the steps they'll need to take to achieve them."
Although the program is open to any local student, the UCCCC will work with CPS schools on the south side of Chicago to identify potential candidates and encourage them to apply. Students accepted to the program will spend eight weeks for two consecutive summers in a laboratory at UChicago, working full-time with a faculty mentor on an independent research project related to the ongoing work of the lab. Throughout the summer, they will receive additional training on career development and academic research.
After the students return to school for the academic year, they will continue to participate in monthly workshops, career fairs, book clubs and other activities. The grant also provides funding to help alumni of the program find additional research opportunities and attend academic conferences.
"For many of these students, this is a life changing experience. It opens their eyes to possibilities in medicine and research they may have never considered," said Kathy Goss, PhD, Director for Strategic Partnerships at UCCCC. "It really sets them on a positive trajectory as they head into college or the later stages of their undergraduate career."
Chicago EYES on Cancer will also select high school science teachers from CPS to provide them with the same hands-on research experience as students. The program will help these educators develop and teach science curricula that build excitement for cancer research careers in their own students.
The program represents a new partnership with the Museum of Science and Industry, Chicago (MSI). The MSI will work with UCCCC to complement its existing science education programming for high school and middle school students, and develop educational content about cancer for their after-school programs throughout the Chicago area.
Chicago EYES on Cancer builds on the success of a similar program funded by a Continuing Umbrella of Research Experience (CURE) grant from the NCI. UCCCC will select 17 students to begin the new program in the summer of 2018. They will join nine students completing the second year of the previous program. Potential applicants are encouraged to attend an open house at MSI on Saturday, November 18th, from 10 a.m. to 12 p.m. Details and registration can be found on the program website.
"We believe it's important for our Cancer Center, located on the south side, to impact our surrounding community and reach students who might not have an opportunity to learn about cancer research, medicine and biological sciences," said Eileen Dolan, PhD, Professor of Medicine and Associate Director for Cancer Education at UCCCC. "That's the part that's so rewarding for us. Once you work with these kids, you see how they get so motivated by the experience. Their excitement is contagious."
The Chicago EYES on Cancer program team is led by Dolan, Mekinda, Goss, and Michelle Domecki. The team is currently recruiting a new Scientific Director to lead the development of scientific content for the program and its partners.