Skip to content
The All of Us Research Program kicks off in Chicago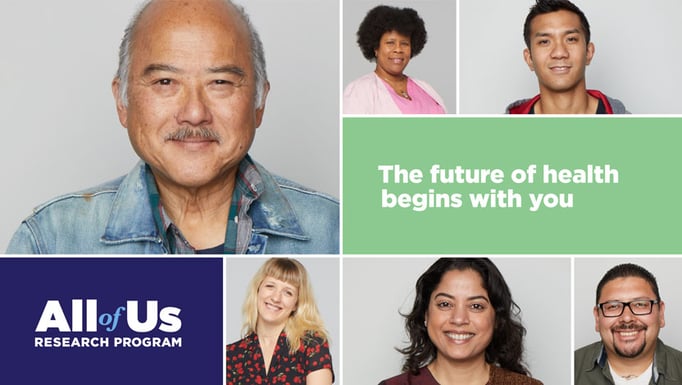 As part of the National Institutes of Health (NIH) Precision Medicine Initiative, the All of Us Research Program is aiming to speed up medical breakthroughs by learning about the lifestyle, environmental, and genetic factors that influence health. To achieve this, All of Us hopes to recruit one million people to share information about their health, habits, and what it's like where they live.
In the future, researchers can use this diverse research cohort to conduct thousands of health studies that look for patterns that may help us understand what affect people's health and how to better prevent and treat diseases.
The University of Chicago Institute for Population and Precision Health Initiative, led by Habibul Ahsan, MD, Louis Block Professor of Public Health Sciences, Medicine, and Human Genetics, is recruiting 50,000 of the 150,000 All of Us participants that will be coming from Illinois.
Participant engagement is a key to success for All of Us, especially for underrepresented minorities that experience disproportionately higher rates of disease incidence and mortality.
"We need participants from communities of color not only to contribute to science, but to contribute to our ability to understand nuances within those populations," said Karen Kim, MD, professor of medicine and director of the University of Chicago Medicine Comprehensive Cancer Center Office of Community Engagement and Cancer Disparities.
Chicagoans will have the opportunity to be part of the All of Us program at the official launch event on Sunday, May 6 at Chase Promenade South in Millennium Park. Chicago was one of seven sites chosen across the country to host a launch event, and it will feature plenty of fun and inspiring speakers. Read more about the Chicago kickoff from the NIH. If you can't make the event in Millennium Park on May 6, you can join All of Us by visiting joinallofus.org.
The future of health is coming to Chicago. Will you be there?
Additional information
Involving 'All of Us' in research to prevent diseases
UChicago to support NIH million-person precision medicine study
Cancer and Research Articles