Skip to content
2018 ASCO Annual Meeting: Expanding the reach of precision medicine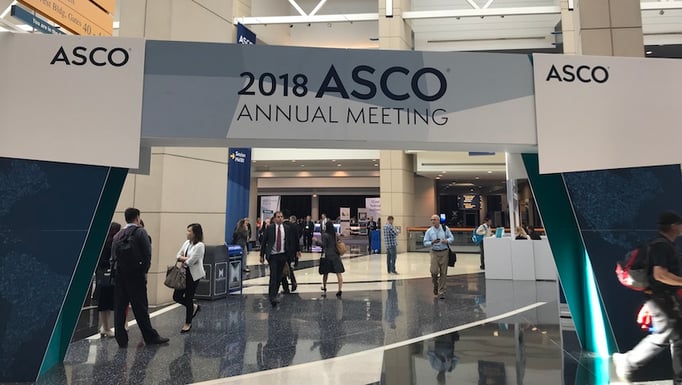 Each year, the Annual Meeting of the American Society of Clinical Oncology (ASCO), the world's leading professional oncology organization, brings together more than 32,000 oncology professionals from around the world to discuss state-of-the-art treatments, new therapies, and ongoing controversies in the field.
This year's meeting, held June 1-5 in Chicago, centered on the theme, "Delivering Discoveries: Expanding the Reach of Precision Medicine." The hot topics covered at this year's conference included major advances in treatments for melanoma and breast, lung, kidney, bladder and pancreatic cancer, among others.
Many UChicago Medicine faculty, staff, and trainees showcased their latest research findings at the conference, including the following highlights. View a complete listing of UChicago presentations (PDF).
Gary Steinberg, MD, Bruce and Beth White Family Professor of Surgery, discussed the nuances of the surgical management of bladder cancer in an education session.
Tara Henderson, MD, MPH, associate professor of pediatrics and director of the Childhood Cancer Survivors Center, participated in a workshop on survivorship clinics and discussed setting up an adult survivorship clinic at UChicago Medicine. She also led a poster discussion on cancer survivorship in adolescent and young adults.
Ralph Weichselbaum, MD, D.K. Ludwig Distinguished Service Professor and Chair of Radiation and Cellular Oncology, received ASCO's highest honor, the David A Karnofsky Memorial Award, and delivered a lecture on his pioneering work on oligometastasis during the opening session.
Blase Polite, MD, associate professor of medicine and immediate past-chair of the ASCO Government Relations Committee, gave a talk on what to expect from Washington, BC in 2018-2019 on the topic of utilization management in oncology at an ASCO Town Hall.
M. Eileen Dolan, PhD, professor of medicine, presented her work identifying genetic variants associated with cisplatin-induced hearing loss and tinnitus in testicular cancer patients in an education session on genetics to personalize cancer survivorship.
Jane Churpek, MD, associate professor of medicine and co-director of the Comprehensive Cancer Risk and Prevention Program, discussed the identification, management and science of hereditary clonal hematopoietic disorders in a Meet-the-Professor session on germline testing for hematologic malignancies.
Ernst Lengyel, MD, PhD, Arthur L. and Lee G. Herbst Professor of Obstetrics/Gynecology and Chair of Obstetrics/Gynecology, spoke at a Meet-the-Professor session on targeting tumor metabolism in gynecologic cancer.
Gini Fleming, MD, FASCO, professor of medicine, director of medical oncology breast program, and medical oncology director of gynecologic oncology, discussed treatment dilemmas in uterine cancer at an oral abstract session on gynecologic cancer.
Thomas Gajewski, MD, PhD, professor of pathology, discussed the newest advances from ASCO in predictive biomarkers, including imaging approaches, to responsiveness to checkpoint blockade therapy.
Jason Luke, MD, assistant professor of medicine, presented the top abstracts involving cancer cellular therapies in a session titled "Evolution of Cellular Therapies in Cancer" and presented a poster on the results of a phase I biomarker trial for combination immunotherapies. On Saturday, June 2, he received the Humanitarian Award from the Melanoma Research Foundation.
Fay Hlubocky, PhD, MA, clinical health psychologist and research ethicist, discussed oncologist resiliency and wellness at an ASCO Women's Networking Center event and presented a poster on the impact of inpatient palliative care on advanced cancer patient survival.
Dezheng Huo, MD, PhD, associate professor of epidemiology, presented his work with Olufunmilayo Olopade, MD, FACP, FASCO, Walter L. Palmer Distinguished Service Professor of Medicine and Human Genetics, and Nora Jaskowiak, MD, associate professor of surgery and surgical director of the breast center, on pre- and post-treatment body weight and prognosis in a multiethnic cohort of patients with breast cancer.
Faculty members Wendy Stock, MD, M. Eileen Dolan, PhD, Yasmin Hasan, MD, Tanguy Seiwert, MD, Hedy Kindler, MD, Jane Churpek, MD, Yusuke Nakamura, MD, PhD, Everett Vokes, MD, Ami Desai, MD, Justin Kline, MD, Hongtao Liu, MD, PhD, and Peter O'Donnell, MD, presented posters or were senior authors on posters describing their latest research findings, and many others were co-authors on multi-institutional studies presented.
Several faculty and trainees were also recognized with awards and other honors, including Steven Maron, MD, who received the ASCO Conquer Cancer Foundation/Lilly Young Investigator Award for his work on intratumoral heterogeneity and checkpoint resistance; Jennifer Tseng, MD, assistant professor of surgery, who was named as an inaugural ASCO Education Scholar; and newly inducted ASCO Fellows Michael Bishop, MD, Hedy Kindler, MD, Jyoti Patel, MD, and Blase Polite, MD.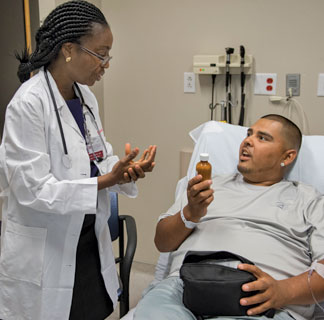 Participate in a Cancer Clinical Trial
UChicago Medicine cancer experts are actively conducting clinical trials of new screening methods and treatments for cancer, including breakthrough approaches to harnessing the immune system to fight cancer. As a recognized leader in phase I and other early-phase clinical trials, our physician-scientists are creating new cancer treatment methods that later become the standard of care elsewhere.
Find a cancer clinical trial