Skip to content
Rising star in microbiome research focuses on basics in the lab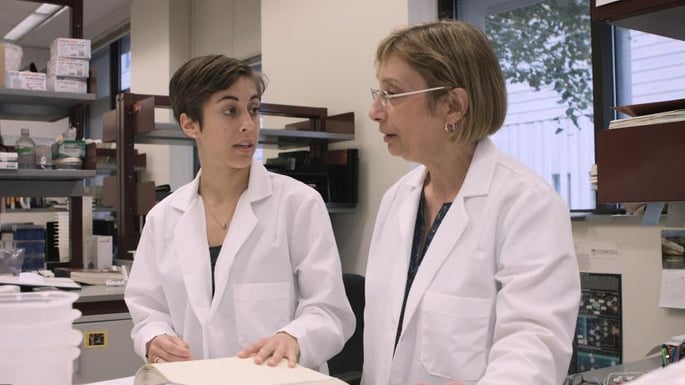 Taylor Feehley (left) with Cathryn Nagler, PhD
Taylor Feehley just defended her PhD thesis on how gut bacteria interact with the immune system, work that someday could help prevent the development of food allergies. She has personal reasons for wanting to work in this field, family members with autoimmune conditions and food allergies, but her decision to go into science was a little more spontaneous.
"To be perfectly honest, the reason I really got into science was because when I was 16, I saw a St. Jude's Children's Hospital commercial where they were doing cell cultures, and I said, 'That looks really cool. I'm going to do that'," she said.
Shortly after seeing that inspirational commercial, she got a flyer in the mail for the University of Chicago Research in the Biological Sciences program, a summer session that gives high school students hands-on scientific training in labs on campus. She talked her parents into sending her from tiny Wilton, Conn., to Chicago, and, after returning the following summer, she eventually enrolled at
UChicago as an undergraduate. Now 26 and nearly finished with graduate studies, Feehley is moving on to the next phase in her scientific career, applying for postdoctoral fellowships.
Feehley discusses her work studying food allergies along with Jack Gilbert in this video from Argonne National Laboratory
That job search became a little easier earlier this month when Forbes named her one of its 30 Under 30 for Science, a list of 30 scientists under the age of 30 who, as Forbes says, are "the heirs to Carl Sagan, Ada Lovelace and science's greatest minds."
While Feehley says that honor was unexpected (she still doesn't know who nominated her), it's definitely deserved. Her research with the Committee on Immunology at UChicago, under the direction of Cathryn Nagler, PhD, is helping lay the groundwork for better treatments to prevent, or even reverse, food allergies.
In 2014, Feehley worked on a study led by Nagler that showed that the presence of Clostridia, a common strain of bacteria living in the gastrointestinal tract, protects against food allergies. Clostridia prevented allergens in foods like peanuts from entering the bloodstream and triggering cell-level responses that lead to sensitization, a beginning step to developing allergies.
In a similar vein, Feehley is working with Nagler to follow up on another study in 2015 that showed dramatic differences in the composition of gut bacteria in babies who overcame an allergy to cow's milk after taking a probiotic formula. Both of these studies, along with ongoing research by Feehley, Nagler and their colleagues, mean that someday, patients could be given probiotic treatments containing Clostridia or other bacteria to prevent food allergies from developing, instead of being doomed to a lifetime of avoiding dangerous foods.
Feehley says that while she certainly appreciates the transformational potential of the work, she enjoys the ins and outs of lab work the most.
"Some people who go into science like the big picture questions and want to get answers," she said. "I am very interested in that, don't get me wrong, but I also enjoy the minutiae of pipetting and dissecting, waiting to get your results and watching colors change. I really enjoy all aspects of doing science."
She hopes to have her own lab someday, studying the gut microbiome for potential treatments for more diseases, but beyond that, she says she's willing to go where the science takes her. "I like this field because it changes so dramatically every year," she said. "It's actually really hard to speculate where the microbiota research field will even be in 10 years. I just hope to be part of it, and I hope to be spearheading some of those new efforts."