Skip to content
UChicago's paleontology program stays on top by linking the past to the present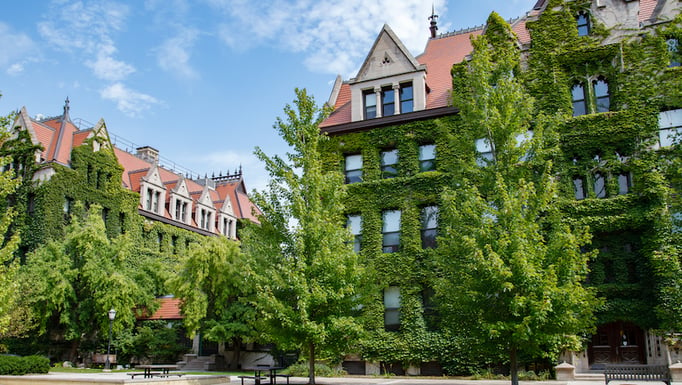 The nation's top ranked doctoral program in paleontology doesn't have its own department, nor do its faculty members work together in a dedicated building. Instead, the heart of the University of Chicago's storied paleontology program is scattered in a series of labs throughout Culver Hall and the Anatomy building, with just a few display cases holding fossil replicas, photos and magazine covers to give it away. But this unconventional organization of paleontology research at UChicago is what gives the program its strength.
Housed within the Department of Organismal Biology and Anatomy (OBA), UChicago's vertebrate paleontology faculty, their postdocs and students work alongside researchers studying neurobiology, biomechanics, evolution and development. This connection between millions-of-years-old fossils and the living, breathing creatures descended from them has helped the UChicago paleontology program achieve the No. 1 ranking in U.S. News & World Report's survey of the country's best biological sciences doctoral programs.
"The University of Chicago is a center of paleontology and evolutionary biology," said Robert Ho, PhD, chair of the Department of Organismal Biology and Anatomy. "People see it as a strength — whether we define it that way or not — because we have this extraordinary combination of leading figures in paleobiology working here."
U.S. News & World Report ranks paleontology programs every four years. UChicago has been ranked first in three of the last four lists: 2019, 2015, and 2007. In 2011, it was ranked second.
'A natural home for vertebrate paleontologists'
The key to this continuing success is a faculty comprising six of the world's leading experts, each studying key branches on the evolutionary tree of life. Zeray Alemseged researches human origins and the environmental context of human evolution. Michael Coates studies the origins of early vertebrates and fish. David Jablonski, who has a joint appointment in the Department of Geophysical Sciences, studies the origins and extinction patterns of marine bivalves. Zhe-Xi Luo studies the earliest mammals. Neil Shubin studies the first tetrapods and their transition to land, and Paul Sereno covers dinosaurs and the emergence of flight.
This broad range of experience and specialties, both within the group and the broader OBA faculty, broadens the scope of what paleontology means at UChicago. Coates says the work of a modern paleontologist doesn't end digging up a fossil and identifying it. Today's researchers want to understand how the animal lived, where it came from and how it evolved, so it's only natural for them to work side by side with experts on the form and function of living creatures.
"You have a huge amount of data about the organism within a fossil skeleton," Coates said. "It gives you information about how it developed, how it moved, the musculature and the nervous system that controlled it, and we can learn more about that from our colleagues. So, this department is a natural home for vertebrate paleontologists."
You have to understand the different demands of conducting lab work and doing field research in different environments, and be conversant in all of them.
That creates an attractive environment for students as well. Many traditional graduate paleontology programs are housed within natural history museums, which offer less exposure to experimental biological research than found at UChicago, which has two graduate programs that foster interdisciplinary studies.
The Committee on Evolutionary Biology (CEB), chaired by Coates, is a university-wide graduate training program with almost 60 faculty members representing all four graduate divisions (Biological Sciences, Physical Sciences, Social Sciences and Humanities), as well as institutions outside the University (Argonne National Laboratory, Brookfield Zoo, Chicago Botanic Garden, The Field Museum, Lincoln Park Zoo, and Morton Arboretum).
The OBA graduate program in Integrative Biology also trains students to pursue interdisciplinary research across fields in biology and among levels of biological organization. Diverse faculty in both programs conduct research on most major groups of organisms and in most ecosystems, using an extremely broad range of methods and theoretical approaches.
"Our students want to be experts in these different disciplines and not just dabble," Ho said. "I think that's another plus for them to come through this program and collaborate with faculty with different backgrounds."
"It's a different way of thinking," Coates added. "You have to understand the different demands of conducting lab work and doing field research in different environments, and be conversant in all of them. That's something we can offer here, and there aren't many other places where you can do that."
Linking past to present
There is no shortage of students who want to come to Chicago and study in this setting, but the challenge is the same thing that plagues basic science research programs around the country: finding the necessary funding to support them. While traditional paleontology field work and lab preparation may seem relatively low-tech, advances in imaging, CT scanning and genetic analysis that yield reams of crucial data on the evolution and function of specimens are quickly adding to the price tag. And the kind of interdisciplinary, genre-bending work fostered by OBA and CEB can be a tough pitch to funding agencies accustomed to supporting conventional types of research.
The key to moving forward, both Coates and Ho say, is connecting the work of paleontology, and the eons of perspective it brings, to modern day problems such as climate change.
"We're used to thinking about change on many different scales of space and time, and we research the causes and consequences of former extinctions and how climate change affected the history of life on earth," Coates said.
"We have all of this rich context to train the essential new generation of scientists, not necessarily to go into academia, but to work in policy and other advisory bodies and make some pretty challenging decisions — because change is happening whether we like it or not."
Read more biological science articles