Skip to content
Jay Goldberg, PhD, pioneer in understanding the vestibular system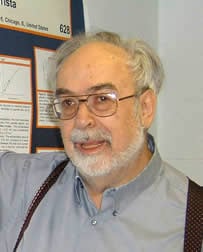 Jay Goldberg, PhD, professor emeritus in the Department of Pharmacology and Physiological Sciences at the University of Chicago and a pioneer in understanding the vestibular system, died on Monday, June 17, 2019, from liver disease. He was 83 years old.
Goldberg was a "powerhouse in neurophysiology," according to his colleagues. He was, for decades, the leading authority on the vestibular system, which is essential for normal movement and equilibrium. His laboratory was the first to unravel a cluster of previously neglected sensory organs that feed crucial information about spatial orientation, motion, balance, and head position to the brain.
"Our goal," according to his website, "is to understand the operation of the entire system in terms of its cellular components. To this end, a combined neurophysiological, morphological and behavioral approach is used. The research program ranges from biophysical studies of the isolated sensory organs to single-unit recordings."
"Jay was a founding figure of unparalleled influence in vestibular system neurophysiology," said Kenneth Polonsky, MD, dean of the Biological Sciences Division at UChicago. "He established many of the intellectual questions in the field, made pioneering discoveries, and trained many of the field's current leaders."
"He continued to make important scientific contributions to that field until the past year," Polonsky added. "His death will surely be seen as the end of an era to his colleagues and trainees."
Goldberg enjoyed a long and prolific career. He published more than 70 papers and 30 books, chapters and reviews, and is best known for his pioneering studies of inner-ear function that revealed how animals, including dogs and humans, pinpoint where sounds come from and how they are perceived.
The first of these studies, led by Goldberg and Paul Brown, his postdoctoral fellow, focused on how binaural neurons in the ears of dogs respond to sound localization. In a landmark study, Goldberg and Brown discovered how binaural neurons in the superior olive nucleus (or hindbrain) allow an animal to localize sound left to right, proposing a computational mechanism, decades before the advent of the field of computational neuroscience.
This groundbreaking study, published in the Journal of Neurophysiology 50 years ago, remains the fourth most-cited paper in any American Physiological Society journal.
In the early 1970s, Goldberg and the late Cesár Fernández, an otolaryngology surgeon at the University of Chicago, initiated a study into the vestibular compartment of the inner ear. They intended to complete the project within a year, but it took decades. It became their life's work. Together, the two authors mapped out the structures that enable animals, from turtles to monkeys, to perceive their orientation in space.
This second cluster of studies emphasized the simplicity and elegance of the authors' analysis, their careful phrasing and reasoning, and the coherent picture that emerged by examining a pinball-like set of structures that respond to head movements.
The three groundbreaking studies, published in 1971, described the "first complete characterization of the physiology of the mammalian peripheral otolith system," according to Dora E. Angelaki, PhD, a professor of neuroscience at New York University, who praised their historic significance in 2005. "When combined, these papers constituted the seed for an explosion of quantitative studies on the properties of neurons in the central nervous system that detect and coordinate movement," she wrote. These three papers "set the stage for vestibular system sensory function and launched a plethora of related quantitative studies during the decades to follow."
"Goldberg and Fernández essentially figured out the vestibular system," explained Peggy Mason, PhD, professor of neurobiology at UChicago, who was Goldberg's colleague for years. "They created the field of vestibular physiology, starting from nothing."
Goldberg edited the first book on vestibular function. He catalogued a wide range of phenomena controlled by the vestibular system, ranging from how dancers and spinning ice skaters maintain their balance to how alcohol intoxication leads to vertigo. "The list," Mason noted, "is endless."
He became a mentor to nearly everyone in the field.
His work opened up channels that explained "all sorts of unexpected results," Mason added. He had a talent for making complicated ideas accessible, and he "wrote beautifully about what he and his colleagues discovered." He was even recruited to become a member of one of NASA's Scientific Advisory Committees, working in the Vestibular Research Facility, a post he held from 1984 to 1992. He also wrote the so-called "Goldberg Report," setting out a strategic plan for life science research at NASA for the 1990s.
Born November 9, 1935, Jay Myron Goldberg grew up on the West Side of Chicago. In 1952, at age 16, he entered the College at the University of Chicago. He graduated in 1956 with multiple honors in biochemistry, followed by four years in the biopsychology doctoral program. He then enrolled in a post-doctoral program in biopsychology at the University of Wisconsin-Madison, with funding from the National Science Foundation and the National Institutes of Health.
Although his three years at Wisconsin made him a lifelong Green Bay Packers fan, Goldberg returned to Chicago in 1963 as an assistant professor of physiology. He stayed at UChicago for the rest of his career.
He quickly rose through the ranks. He was promoted to associate professor in 1968 with a joint appointment in theoretical biology in 1969 and to professor in 1972. Goldberg was named chairman of the Committee on Neurobiology in 1983, an administrative role that limited his time in the laboratory. He chose to step down in 1987 and focused the rest of his career on working in the laboratory and teaching.
He was a "larger-than-life character, 'Mr. Vestibular,' for four decades," said Anna Lysakowski, PhD, a professor at the University of Illinois at Chicago and an authority on vestibular and auditory structure and function. "He became a mentor to nearly everyone in the field. He was critically insightful, with a lot of scientific integrity. People sometimes got a little nervous around him, but they appreciated his guidance."
Goldberg was deeply committed to research and teaching. "He was a true mentor for me," recalled Mason. "He was unbelievably helpful, patient, generous and honest. He read every paper I wrote, every grant."
He could be gruff and was not a gentle editor, but "he wanted me to succeed. That was his way of being kind," she added. "If you look at the leading vestibular researchers across the country and to some extent the world, most, if not all, are the scientific children or grandchildren of Dr. Jay M. Goldberg."
Goldberg had four children from a previous marriage: David, Susan, Nancy and Aaron. His second wife, Florence Bonnick, an administrator in Pharmacology and Physiology, died in July 2018.
A memorial service is being planned for Oct. 17 on campus at Bond Chapel. More details will be forthcoming.
Read more biological science articles