Skip to content
Explore Urban Nature with biologist Marcus Kronforst and WTTW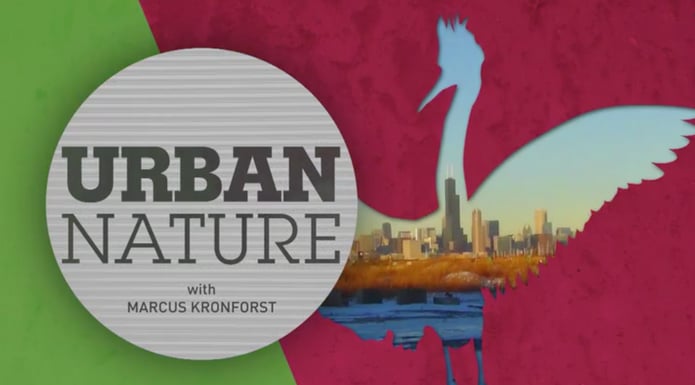 If you know where to look, you'll find the most surprising slices of nature thriving amidst the urban jungles of America's largest cities. In Chicago, drive down Lake Shore Drive late at night and you might see a coyote trotting out of the bushes, or visit a vacant lot on the South Side to find an amazing array of birds, bees, butterflies and native prairie plants. In WTTW's new 16-episode digital series Urban Nature, University of Chicago evolutionary biologist Marcus Kronforst leads audiences on a tour of these overlooked ecosystems in Chicago, New York and San Francisco. He'll hop on a bike, grab a kayak, or even take the subway to seek out the unlikely habitats that are hidden among the skyscrapers. He'll talk with the passionate conservationists who are ensuring that these urban oases survive despite the constant dangers posed by the surrounding city. And he'll discover how these havens are essential to the health of our cities-and the future of our planet.
"It's really amazing. As a biologist, of course I knew that there was nature around us in the city," said Kronforst, who is the Neubauer Family Assistant Professor of Ecology and Evolution at UChicago, "but I had no appreciation for just how much ecology is happening out there, and how important cities actually are in driving some natural systems." The series is now posted in its entirety on
wttw.com/urbannature
, and was written and produced by WTTW's Dan Protess. It consists of 16, four to 10 minute episodes featuring everything from birds, butterflies and coyotes in Chicago to sea lions in San Fransciso and a deserted island hospital just a mile from Manhattan. WTTW is also hosting a
screening and discussion
about
Urban Nature
this Saturday, March 25, from 3:00 to 4:30 p.m. at the Field Museum in Chicago. Kronforst, Protess, and the Field Museum's Abigail Derby Lewis will discuss the making of the series and answer questions.
Click here for more information and to RSVP
.