Skip to content
The time-traveling, globe-trotting scientists of the Committee on Evolutionary Biology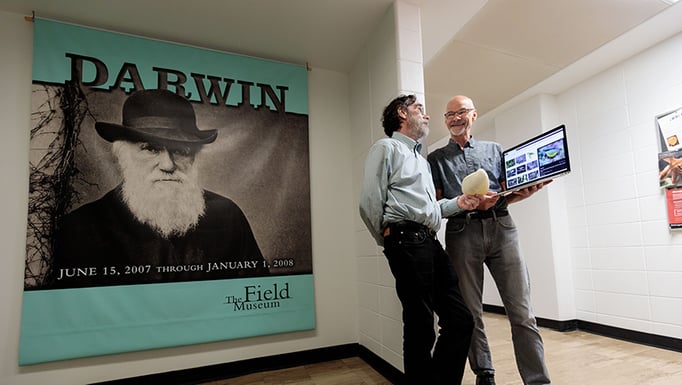 David Jablonski, PhD, left, and Trevor Price, PhD, collaborate on interdisciplinary research. Students in both of their labs shared co-authorship of two related studies on biodiversity in birds and marine bivalves.
The Committee on Evolutionary Biology (CEB) is a driving force behind a half century of impactful scientific inquiry at the University of Chicago. And to this day, this interdepartmental, interinstitutional graduate program remains unique.
"You would think that something this effective also would be functioning in New York or London or Paris or anywhere else they've got world-class universities and museums and collections and zoos and botanic gardens," said Michael Coates, PhD, professor in the Department of Organismal Biology and Anatomy and chair of the CEB. "But it isn't."
What makes it so successful in Chicago and so hard to transplant? Call it what you will — the essential oil, the element that greases the skids — the sine qua non of the Committee on Evolutionary Biology over its impactful 50 years may rest in one unassuming conjunction: and.
By breaking down barriers between University departments and forging deep relationships with six world-class scientific institutions from around Chicago, the CEB creates a fertile stew of ideas and interdisciplinary research for faculty and students to feast on.
It is the South Side and the South Pacific, Hyde Park and the Himalayas.
It is 340-million-year-old Whatcheeria fossils and today's weaver ants.
It is cutting-edge theory and world-class collections.
It is scuba diving and data crunching.
Altruism in the name of science
The committee was formed in 1968, the culmination of efforts by generations of UChicago paleontologists who had campaigned to break through barriers between academic divisions. To some degree, success came as science itself evolved, Coates said.
A precursor Committee on Paleozoology in the Physical Sciences Division was created in the 1960s to allow for the interdisciplinary study of paleobiology and evolution, but it didn't go far enough. Biological Sciences Division faculty who had a primary interest in evolutionary biology felt disconnected from the new committee.
"It quickly became apparent that this artificial division between paleontology and neontology was not in the best interests of the field," Coates said.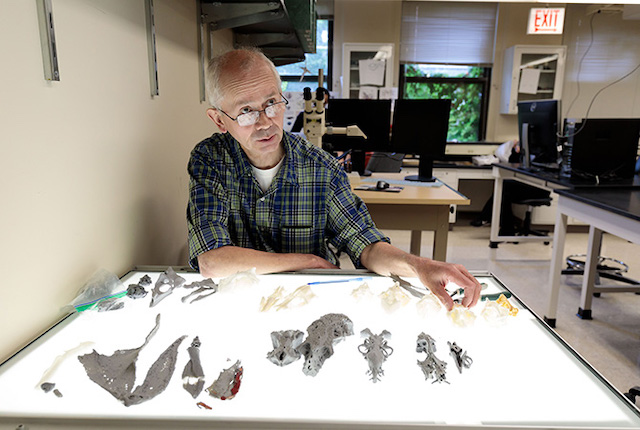 So with the Committee on Evolutionary Biology, the University created a framework for like-minded faculty to share their work and for graduate students to explore further interdisciplinary studies.
Notably, it embraced the University's already deep ties with the Field Museum of Natural History. Since then, the CEB has developed strong partnerships with five more Chicago-area institutions: Argonne National Laboratory, Brookfield Zoo, Chicago Botanic Garden, Lincoln Park Zoo and Morton Arboretum.
"What makes it work is reciprocity and engagement," Coates said.
I've never seen a program that operates with this commitment to intellectual diversity.
"I've never seen a program that operates with this commitment to intellectual diversity," said
David Jablonski, PhD
, William R. Kenan Jr. Distinguished Service Professor in the Department of Geophysical Sciences and Department of Organismal Biology and Anatomy, and former CEB chair. "It's run by faculty for faculty and students. That means that every faculty member who is really involved has what I call an up-regulated altruism gene, because what they're doing is in addition to all the stuff they do in their departments."
Interdisciplinary committees are a hallmark of the University of Chicago. Likely the most famous is the John U. Nef Committee on Social Thought, which was formed in 1941 by then-University president Robert Maynard Hutchins, and there are dozens now across all the divisions.
Victoria Prince, PhD, dean for graduate education in the Biological Sciences Division and a professor in the Department of Organismal Biology and Anatomy, said the University reviewed the committee system a few years ago, prompted by criticism that there were too many graduate programs.
"The external reviewers basically said, 'You invented this idea of interdisciplinary committees, and you do it really well, so keep doing it,'" Prince said. "The CEB is a prime example of it and unique because of its collaborations with other institutions."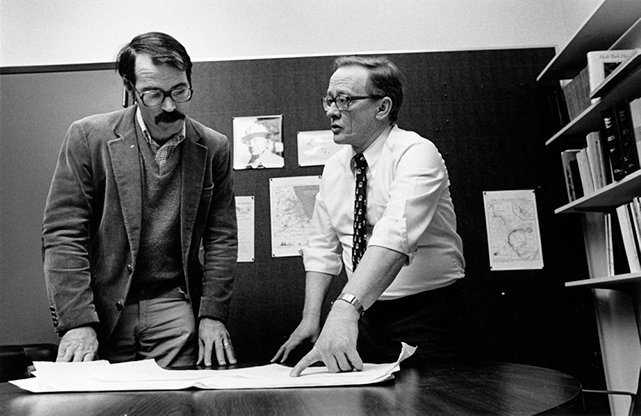 Prince said the CEB's continuing success is due in part to its impressive track record, which attracts committed faculty members — "they eat and drink CEB," she said — and lets the CEB have its pick of truly impressive student applicants.
CEB alumnus Patrick Phillips, SM'88, PhD'91, provost and a professor of ecology and evolution at the University of Oregon, said the committee structure was ahead of its time. "It was a very stimulating environment, and a lot of really foundational work was done," he said. "I've never been in a place that's close to that in terms of interaction, the quality of the graduate students, the intellectual period of time and how important the institution was."
A quintessential CEB partnership
The CEB's benefits redound to the professors as well. So much so that Trevor Price, PhD, a professor in the Department of Ecology and Evolution, only half jokes that its real value is in getting diverse faculty to work together.
His joint research with Jablonski has been particularly fruitful and rewarding.
Price said of their collaboration: "He's the 600-million-year man, and I'm the 600-million-second man."
Their seemingly unrelated interests — Price studies bird diversity, while Jablonski is a paleontologist who studies clams — have come together in potent ways, changing the trajectory of their research. The two have gone so far as to combine their labs' meetings, creating a fertile intellectual environment and forging a common language.
With the CEB, there's an interchange of ideas, and sometimes we can see commonalities and integrate those into our research. That is why the CEB exists.
The synergy wasn't immediate. "I don't know how much time we talked across each other," Price said, "but those are the critical engagements I think you need. That's where science is going to advance in the future." Added Jablonski: "The arguments started with a seminar we ran jointly, along with Susan Kidwell (William Rainey Harper Professor in the Department of Geophysical Sciences). Trevor would say, 'But that can't be true for birds,' or I would say, 'But marine systems must work differently,' and grew from there into a really rich collaboration for us and our students."
The pairing has produced two related studies for the Proceedings of the Royal Society B, one published in 2016 and the second in July of this year, with co-authorship of each shared by students in both labs. Both papers explore fascinating commonalities in biodiversity in birds and marine bivalves. The findings might shed light on how species will adapt as climate change continues.
For both birds and marine bivalves, there is a significant decrease in the number of species from the tropics to the colder temperate regions. The same pattern holds for bivalves. The second study bores into the functional diversity of these species.
"Our first paper was about species numbers and geographic range sizes," Jablonski said. "This new paper is about the different ways of making a living. It's been really interesting because it turns out that birds and bivalves again show very similar patterns."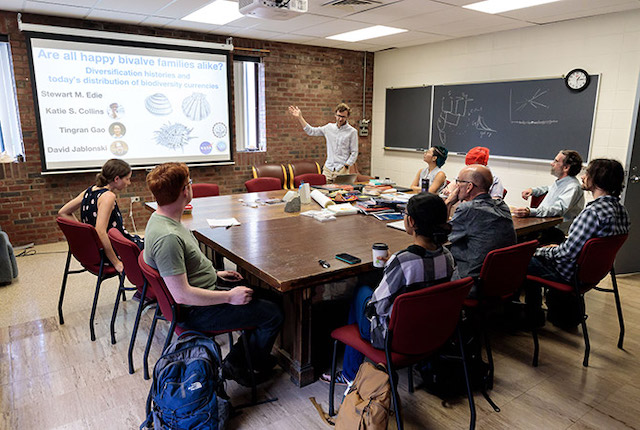 Jablonski said that, while in the tropics you might find a huge imbalance among different modes of life — say, dramatically more insectivores than carnivores or parasites — at the colder, less hospitable altitudes, the number of species drops but their functional diversity also evens out. "That says fascinating things about how ecological niches and resources are managed," he said. "And the great thing is that terrestrial birds and marine bivalves show similar patterns. We never would have discovered that if it hadn't been so easy to work together under the CEB umbrella.
"I'm already scheming what our next analysis is going to be. It's really been fun."
Evolving studies
As impressive as CEB-centered research has been for its first 50 years, it may only now be experiencing its true potential. Significant advances in imaging, data analytics and computational power have greatly expanded the types of questions scientists can imagine asking, let alone pursue. The possibilities are felt across a diverse spectrum of disciplines, including genetics, ecology, biomechanics and morphology, and environment and microbiome.
This presents its own challenges.
"You can easily lose track of relevant disciplines that might be actually working on very similar problems but in different ways," Price said. "With the CEB, there's an interchange of ideas, and sometimes we can see commonalities and integrate those into our research. That is why the CEB exists."
Anniversary event
The Committee on Evolutionary Biology will celebrate its 50th anniversary with a two-day event on campus and at the Field Museum in November.
"We're really pleased to be able to present such a diverse program of research output from CEB alumni, ranging from the biomechanics of bat flight via the evolutionary development of mammals through to economic development and conservation biology," said Michael Coates, PhD, CEB chair. "This broad canvas of science extends beyond lab-, field-, and collections-based investigations to present the impact of such fundamental research on public policy."
Thursday, Nov. 21: 6 p.m. dinner in Hinds Hall, 7:30 p.m. Evolutionary Morphology Seminar.
Friday, Nov. 22: CEB: A Look Back and Forward, 9 a.m. to 6 p.m. at the Field Museum. Research symposium featuring CEB alumni. Current CEB students will discuss their research at an afternoon reception.
Register by Nov. 15.
Read more biological science articles