Skip to content
Medical student knits models to learn anatomy and help classmates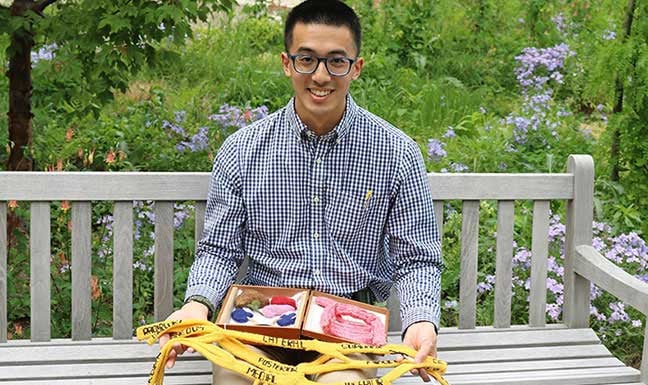 When Daniel Lam studied anatomy in his first year at the Pritzker School of Medicine, he found the nerves of the brachial plexus difficult to memorize and the movement of the eye tricky to understand.
"I thought at the time how helpful physical models would have been to me," Lam said. So after volunteering to assist in the course's lab during his second year, he decided to make a 3-dimensional organ as a teaching device.
That's when he picked up his knitting needles and created an interactive human eye out of yarn, complete with the six working extraocular muscles in the eye socket that help the eyeball move.
"The first year students, especially those who were as frustrated as I was, really liked it," he said. "They got a sense of how each muscle moved."
Lam first tried knitting in eighth grade — to impress a girl during a class trip. And he discovered he liked it. Although it wasn't cool to be seen with knitting needles in high school, he took a class and began making, and designing, scarves, hats, socks and sweaters.
"Knitting allowed me to be productive while listening to music or watching TV," said Lam, an avid fan of "The West Wing." He also finds the hobby relaxing.
While in college, Lam created a web site — masculiknity.com — to showcase his yarn creations and patterns as well as his love for writing. During medical school, the site, which started as an imaginative blog about knitting and traveling, evolved to include thoughtful essays about his clinical experiences.
After several Pritzker classmates — female and male — asked Lam to teach them how to knit, he started the Pritzker Knitzers student organization. "Most of the members of the group say that knitting de-stresses them," Lam said. "And it's nice to work together on something outside of medicine."
But medicine, and a desire to help his fellow students, continues to inspire Lam's knitting projects. He's a peer educator in the anatomy lab again this year, and has added two more models —the brachial plexus and the intra-abdominal viscera — to his box of soft and slightly fuzzy anatomy teaching tools.
"You know what they say," Lam joked in one of his blog posts,"'you can take the knitter out of the anatomy lab…'"
Patient Care Articles & News