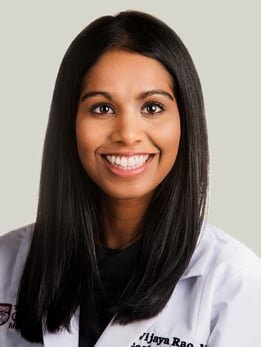 Assistant Professor of Medicine
A clinically integrated network of physicians and providers employed by UChicago Medicine who offer care in inpatient, community, ambulatory, acute care or extended care settings.
Close
773-702-6140
Vijaya Rao, MD, cares for patients with a variety of digestive diseases, and specializes in celiac disease, inflammatory bowel disease, colon cancer screening and gastroenterologic issues in women. She researches the ethical implications of invasive procedures and clinical trials.
Dr. Rao serves as the director of student and resident rotations for the section and assists with implementation of the ethics curriculum for gastroenterology fellows.
Adult GI with Dr. Vijaya Rao: Things You're Too Embarrassed to Ask a Doctor
Things You're Too Embarrassed To Ask A Doctor is UChicago Medicine's podcast dedicated to answering some of the most searched medical questions on the Internet. What does it mean if poop is green? This episode, general gastroenterologist Dr. Vijaya Rao explains the source of some questions people have in the bathroom.