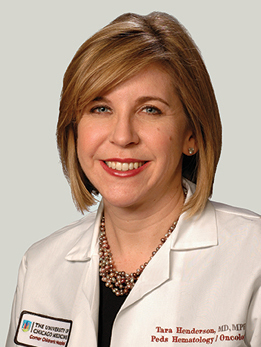 Pediatric Hematology & Oncology (Pediatric Cancer) | More
Professor of Pediatrics Interim Chief, Section of Pediatric Hematology, Oncology and Stem Cell Transplantation
Director, Childhood, Adolescent and Young Adult Survivorship Center
Co-Leader, Comprehensive Cancer Center Prevention and Control Program
UChicago Faculty Physicians hold faculty positions with the University of Chicago and provide care for patients on the academic health system's main campus in Hyde Park and in care centers throughout the Chicago region.
Close
773-702-9158
Tara Henderson, MD, MPH, specializes in the diagnosis and medical treatment of patients with pediatric cancers. She has a particular interest in the care of childhood cancer survivors.
Dr. Henderson's research focuses on the development of and screening for second cancers in childhood cancer survivors. Although treatment of childhood malignancies has become increasingly successful, with a current overall cure rate approaching 80 percent, with it comes the long-term toxic late effects of chemotherapy and radiation during critical stages of development, including second cancers and damage to vital organ systems. Dr. Henderson is interested in the characterization of second cancers and those susceptible, so that early and appropriate screening regimens can be developed.
Read more from Dr. Tara Henderson