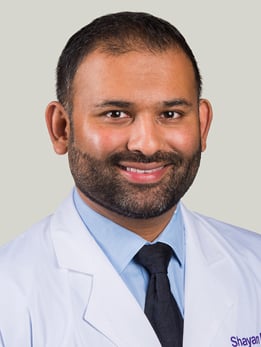 Hematology and Oncology (Cancer) | More
Clinical Associate of Medicine
A clinically integrated network of physicians and providers employed by UChicago Medicine who offer care in inpatient, community, ambulatory, acute care or extended care settings.
Close
855-702-8222
As a medical oncologist, Shayan Rayani, MD, provides skilled care for a range of cancers and blood diseases. He specializes in the diagnosis and treatment of gastrointestinal cancers, including esophageal, pancreatic, liver, stomach, colon and rectal cancers.
Dr. Rayani is also an active researcher. He has led several clinical trials investigating innovative therapeutic approaches to cancer treatment.