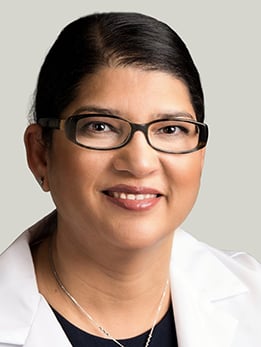 Maternal-Fetal Medicine, OB/GYN | More
Professor of Obstetrics and Gynecology
Chief, Section of Maternal-Fetal Medicine
UChicago Faculty Physicians hold faculty positions with the University of Chicago and provide care for patients on the academic health system's main campus in Hyde Park and in care centers throughout the Chicago region.
Close
773-702-6118


Dr. Rana aims to improve maternal and fetal outcomes through research on preeclampsia. Her research over the last several years has focused on demonstrating clinical utility for angiogenic biomarkers in prediction of adverse outcomes among women with suspected preeclampsia. She is also testing the idea that these biomarkers will prove superior in predicting adverse outcomes, leading to reductions in maternal and fetal deaths related to preeclampsia in developing countries such as Haiti. Dr. Rana performs collaborative research evaluating the relationships between increased levels of angiogenic factors and immediate, as well as future, cardiac performance. Dr. Rana's work has been funded by several notable organizations, including the National Institutes of Health and the American Heart Association.

A dedicated teacher, Dr. Rana trains residents and fellows on the use of ultrasound imaging, as well as the management of women with complex pregnancies. She also serves as a mentor on various clinical, basic science and translational research projects; these mentored research projects have resulted in multiple national and international conference presentations, and published manuscripts
At The Forefront Live: Understanding Preeclampsia
Preeclampsia is a common condition during pregnancy characterized by high blood pressures. It can lead to serious complications for both mother and baby. Physician Sarosh Rana, MD, MPH, and nurse Macaria Solache, RN joined us to discuss.