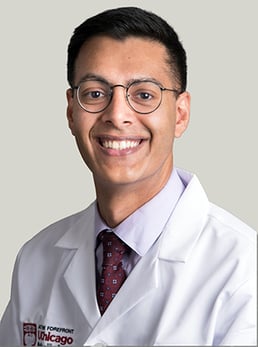 Assistant Professor of Medicine
Director, Pancreas Clinic
A clinically integrated network of physicians and providers employed by UChicago Medicine who offer care in inpatient, community, ambulatory, acute care or extended care settings.
Close
773-702-6140
Gastroenterologist Sajan Nagpal, MBBS, specializes in diagnosing and treating pancreatic disease and is the director of our pancreas clinic at UChicago Medicine. Dr. Nagpal is an expert in acute and chronic pancreatitis, cystic lesions of the pancreas and autoimmune pancreatitis, and he has experience caring for patients with other complex digestive disease conditions. Dr. Nagpal also works closely with the islet auto-transplantation program at to provide patients with multidisciplinary care.
As an active researcher, Dr. Nagpal uses clinical and translational research to improve the lives of his patients. His research interests include risk stratification of pancreatic cysts and early detection of pancreatic cancer, including screening in high-risk populations. Most recently, he was investigating patients with pancreatic cancer-induced diabetes and with type 2 diabetes to better understand the differences in the two conditions. Dr. Nagpal's research has been published in the highest impact peer-reviewed journals, including JAMA, Gastroenterology, American Journal of Gastroenterology and Clinical Gastroenterology and Hepatology.