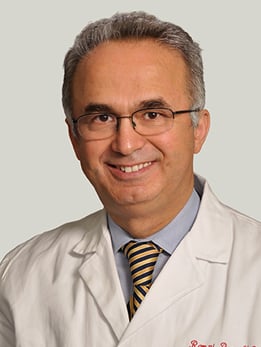 Remzi Bag, MD, is an expert in rare and advanced pulmonary conditions including pulmonary fibrosis, pulmonary hypertension and lung transplantation
Dr. Bag's clinical focus has been providing leading-edge, compassionate, comprehensive care, resulting in exceptional patient outcomes. He has a particular interest in the management of patients with advanced and complex lung diseases. Dr. Bag specializes in:
Providing direct care for lung transplant candidates and recipients
Optimizing patients who have chronic lung failure
Treating pulmonary hypertension and interstitial lung diseases, including idiopathic pulmonary fibrosis, Lymphangiomyomatosis and langerhans cell histiocytosis.
His interests also include:
Improving access to lung transplantation for patients with advanced lung failure
Educating practicing pulmonologists, pulmonary critical fellows and residents in the management of advanced lung diseases
Optimizing outcomes for patients with chronic lung failure and transplantation.
Dr. Bag has contributed significantly to medical literature, publishing numerous peer-reviewed articles and book chapters.