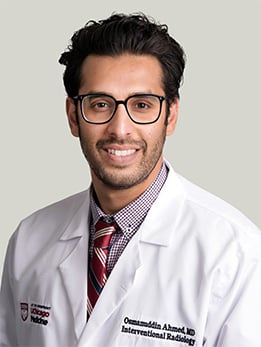 Osman Ahmed, MD, is an expert vascular and interventional radiologist who diagnoses and treats a wide range of conditions. Using image-guided technology and small, sophisticated instruments, Dr. Ahmed performs minimally invasive procedures for acute and chronic deep vein thrombosis, benign prostatic hyperplasia, peripheral vascular disease, liver/bone/lung/kidney cancer, spinal fractures, uterine fibroids and more. He also implants inferious vena cava (IVC) filters, which prevent a blood clot from traveling around the body or creating a blockage.
In additional to his clinical expertise, Dr. Ahmed researches novel treatment options that improve outcomes for patients. His research on liver cancer, IVC filters and venous diseases has been published in several high-impact, peer-reviewed journals, including the Journal of Vascular and Interventional Radiology, Radiology, Chest, Journal of American College of Radiology, and Journal of Surgical Oncology.
Dr. Ahmed also believes in the importance of educating medical students, residents, fellowships and peers in order to enhance health care across the world. He has been invited to speak at a number of symposiums, practicums and national/international meetings about the newest advancements in interventional radiology.
At The Forefront Live: Vascular Disease FAQ
Chicago Medicine vascular surgeon Chelsea Dorsey, MD, joins interventional cardiologist Jonathan D. Paul, MD, and vascular and interventional radiologist Osman Ahmed, MD, to discuss how to detect, treat and prevent a variety of vascular diseases.