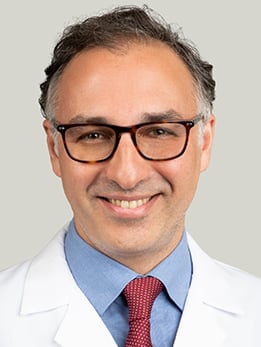 Assistant Professor of Surgery
UChicago Faculty Physicians hold faculty positions with the University of Chicago and provide care for patients on the academic health system's main campus in Hyde Park and in care centers throughout the Chicago region.
Close
773-702-1860
Omer Raheem, MD, is a board-certified urologist specializing in men's sexual health and male infertility. Dr. Raheem is an expert in diagnosing and treating a wide range of urologic conditions including:
Erectile dysfunction
Penile implants
Peyronie's disease
Complex penile reconstruction
Male infertility
Ejaculatory disorders
Enlarged prostate
Urinary incontinence
Testis pain
Hypogonadism
He works closely with UChicago Medicine's Center for Reproductive Medicine and Infertility team to provide the best treatment plan for patients suffering from male factor infertility. Dr. Raheem offers advanced sperm retrieval procedures including, microsurgical testicular sperm retrieval (microTESE), testicular sperm aspiration (TESA) and microsurgical vasectomy reversal. He also supports cancer survivors at the Comprehensive Cancer Center by improving quality of erectile, urinary and reproductive health.

In addition to his clinical work, Dr. Raheem is involved in clinical and transitional research to better understand patient-reported outcomes in prosthetics and reproductive urology, and he is studying novel ways to discover biomarkers and therapeutics in the field of sexual medicine.

Dr. Raheem's research has been published in over 125 peer-reviewed publications and eight book chapters, including the recently released textbooks of Epidemiology of Male Infertility in Scientific American 2018 and Manual of Sperm Retrieval and Preparation in Human Assisted Reproduction 2021. He is currently an associate editor of Sexual Medicine and Sexual Medicine Reviews, the official journal of the Sexual Medicine Society of North America (SMSNA).