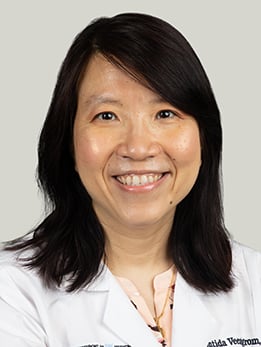 Assistant Professor of Pediatrics
UChicago Faculty Physicians hold faculty positions with the University of Chicago and provide care for patients on the academic health system's main campus in Hyde Park and in care centers throughout the Chicago region.
Close
773-702-6169
Montilda Veeravigrom, MD, specializes in pediatric neurology with a primary focus on pediatric epilepsy and pediatric sleep disorders. Dr. Veeravigrom understands the connection between epilepsy/seizures and sleep disorders in children. She works her patients and their families to diagnose obstructive sleep apnea, central sleep apnea, restless leg syndrome, periodic limb movement disorder, narcolepsy, parasomnia and other sleep disturbances.
In addition to her commitment to her clinical practice, Dr. Veeravigrom's is passionate about using research to improve treatments and outcomes for her patients. Her research has focused on triaging patients based on clinical and polysomnogram results in order to determine the cause of obstructive apnea after the child underwent nocturnal oximetry (a small device that monitors oxygen while sleeping. Dr. Veeravigrom is also exploring how music can be used as an alternative treatment for epilepsy. Her work has been published in a several highly respected, peer-reviewed journals, including Brain and Development and Epilepsy and Behaviours.