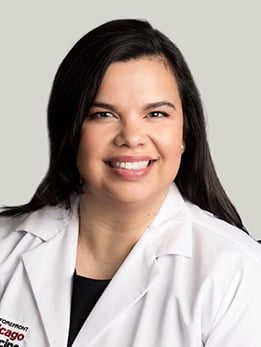 Maternal-Fetal Medicine, OB/GYN | More
Assistant Professor of Obstetrics and Gynecology
Co-Director, Diabetes in Pregnancy Program
UChicago Faculty Physicians hold faculty positions with the University of Chicago and provide care for patients on the academic health system's main campus in Hyde Park and in care centers throughout the Chicago region.
Close
773-702-6118
Maritza Gonzalez, MD, is a maternal-fetal medicine physician, which means that she specializes in high-risk pregnancies. Dr. Gonzalez provides comprehensive care to women who have an increased risk of complication throughout pregnancy because of diabetes, obesity, heart disease, mental health disorders, advanced maternal age, hypertension, multiple pregnancy, preeclampsia and premature birth problems.
Her commitment to her patients and passion for medicine has inspired Dr. Gonzalez into being a strong advocate for accessible health care for everyone. Dr. Gonzalez finds it truly rewarding to work women who are recovery from addiction and/or opioid use disorder(s) as they navigate their pregnancy. Additionally, Dr. Gonzalez also enjoys working with and treating under resourced patient populations that do not have access to quality health care.
As part of her ongoing quest to improve care for women, Dr. Gonzalez is also an avid researcher who investigates ways to better management high-risk patients. Her work has been published in several peer-reviewed journals, including the American Journal of Perinatology and Journal of Ultrasound in Medicine.