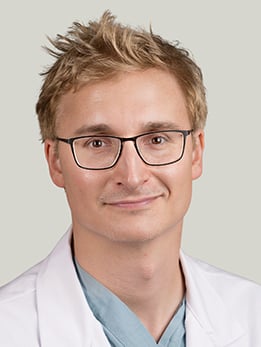 Assistant Professor of Surgery
UChicago Faculty Physicians hold faculty positions with the University of Chicago and provide care for patients on the academic health system's main campus in Hyde Park and in care centers throughout the Chicago region.
Close
773-702-6128
Luka Pocivavsek, MD, PhD, is a highly skilled vascular surgeon who specializes in a wide range of vascular conditions, including peripheral vascular, cerebrovascular disease and aortic disease.
As an active researcher, Dr. Pocivavsek advances vascular care by investigating innovative treatments and techniques for better outcomes and quality of life for his patients. His research focuses on improving treatment for patients with aortic dissections, a condition in which inner layers of the aorta tear and/or rip. Dr. Pocivavsek evaluates patients using specific aortic parameters to identify what treatment(s) would be most effective depending on each individual patient's aortic anatomy. His research highlights the importance of examining both size and shape – as well as other features – of a dissected aorta before determining the right treatment. Appraising factors beyond size alone provides a more holistic picture of a damaged aorta, which not only indicates which patients will benefit from surgery, but also classifies patients that will have better long-term outcomes with medical management alone.
His research has been published in several peer-reviewed journals, such as Science, Nature Physics, Journal of Vascular Surgery, Biophysical Journal, Soft Matter, Biomaterials and Annals of Vascular Surgery. Dr. Pocivavsek also presents his findings at conferences and meetings both domestically and internationally.
In addition to his clinical practice, Dr. Pocivavsek is also the co-founder of ArugaTechnologies, a medical device company that designs synthetic vascular grafts using new surface technology inspired by nature.