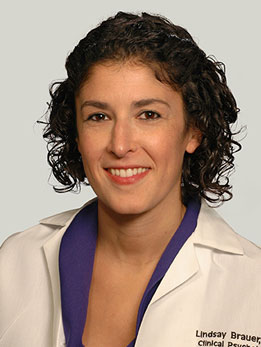 Assistant Professor of Psychiatry
A clinically integrated network of physicians and providers employed by UChicago Medicine who offer care in inpatient, community, ambulatory, acute care or extended care settings.
Close
773-702-3858
Lindsay Brauer, PhD, specializes in cognitive-behavioral therapy for adults with mood, anxiety and psychotic disorders, including:
major depressive disorder
bipolar disorder
obsessive-compulsive disorder
generalized anxiety disorder
specific phobias
schizophrenia
schizoaffective disorder
delusional disorder.
Dr. Brauer's research examines cognitive, affective and motivational factors associated with mood and anxiety disorders. Most recently, her researched explored the impact of major depressive episodes on goal generation, goal pursuit motivation, and goal attainment in women.
A dedicated educator, Dr. Brauer plays an active role in the pre-doctoral internship program.