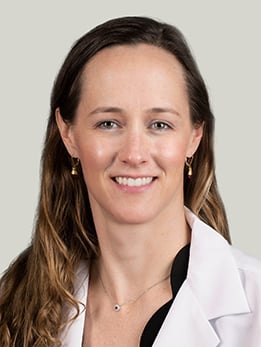 Pediatric Orthopaedic Surgery | More
Assistant Professor of Orthopaedic Surgery and Rehabilitation Medicine
UChicago Faculty Physicians hold faculty positions with the University of Chicago and provide care for patients on the academic health system's main campus in Hyde Park and in care centers throughout the Chicago region.
Close
773-834-3531
Laura Lewallen, MD, specializes in pediatric orthopaedic surgery with a focus on diagnosing and treating upper extremity conditions (shoulder, elbow, forearm, wrist and hand) in children of all ages. Dr. Lewallen has expertise in a wide range of traumatic conditions such as fractures (broken bones), as well as congenital and hereditary orthopaedic disorders, including extra fingers (polydactyly), webbed fingers (syndactyly), arthrogryposis (joint contractures), cerebral palsy, osteogenesis imperfecta (fragile bones that break easily), multiple hereditary exostoses and limb deficiency.
As part of Dr. Lewallen's goal to improve orthopaedic care for children, she uses research to identify and evaluate new treatments and therapies for her patients. Her work has been published in several acclaimed journals, including the Journal of Pediatric Orthopaedics, American Journal of Sports Medicine, and Journal of Children's Orthopedics
Dr. Lewallen is also dedicated to educating residents and medical students, providing guidance and mentorship throughout their careers.