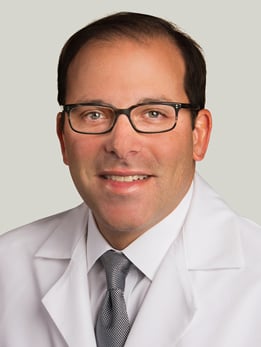 Gastrointestinal Surgery (GI Surgery), Surgical Oncology, Surgery | More
Professor of Surgery Program Director, General Surgery Residency
Associate Director, Complex General Surgical Oncology Fellowship Program
UChicago Faculty Physicians hold faculty positions with the University of Chicago and provide care for patients on the academic health system's main campus in Hyde Park and in care centers throughout the Chicago region.
Close
773-834-3524
A board-certified general surgeon and surgical oncologist, Kevin Roggin, MD, specializes in the surgical treatment of complex upper gastrointestinal tract and hepato-pancreato-biliary (HPB) cancers (stomach, pancreas, liver, gallbladder, gastrointestinal stromal tumors (GIST), sarcomas, extrahepatic bile duct cholangiocarcinoma). Dr. Roggin performs advanced robotic HPB procedures, including robotic pancreaticoduodenectomy (Whipple procedure), robotic distal pancreatectomy/splenectomy, robotic liver surgery and robotic gastric surgery.
Dr. Roggin serves as program director of the General Surgery Residency and associate program director of the Surgical Oncology Fellowship. He has held leadership positions in the Society of Surgical Oncology (SSO) as the chair of the Training Committee and is in his second three-year term on the SSO Executive Council.