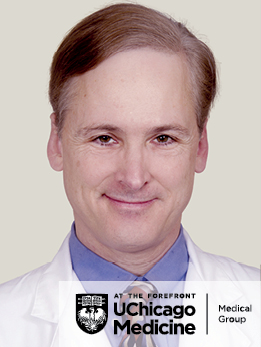 UChicago Medicine Medical Group is comprised of UCM Care Network Medical Group, Inc. and Primary Healthcare Associates, S.C. UChicago Medicine Medical Group physicians are not employees or agents of The University of Chicago Medical Center, The University of Chicago or UChicago Medicine Ingalls Memorial.
Close
708-647-7565
Orthopaedic surgeon, Joseph Thometz, MD, specializes in knee and shoulder disorders.
He utilizes a variety of noninvasive and minimally invasive options to manage pain and improve joint mobility, including non-steroidal anti-inflammatory drugs (NSAIDs), physical therapy, steroid injection therapy, and viscosupplementation.
Dr. Thometz is also an expert in arthroscopic rotator cuff repair and arthroscopic ligament reconstruction – both minimally invasive approaches that reduce postoperative pain and recovery time. For hip and knee replacement procedures, he prefers a minimally invasive technique.
Dr. Thometz earned his medical degree from Northwestern University Medical School and completed his residency at Southern Illinois University. He went on to complete a sports medicine fellowship at the University of Minnesota.
UCM Medical Group physicians with privileges at the hospital are independent physicians. They are not employees or agents of the University of Chicago Medical Center or Ingalls Memorial.