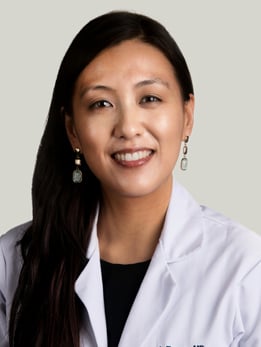 Breast Surgery, Surgery, Surgical Oncology | More
Assistant Professor of Surgery
UChicago Faculty Physicians hold faculty positions with the University of Chicago and provide care for patients on the academic health system's main campus in Hyde Park and in care centers throughout the Chicago region.
Close
773-834-7032
Jennifer Tseng, MD, is a breast cancer surgeon with fellowship training in breast and complex general surgical oncology, clinical immunotherapy and clinical medical ethics. In consultation with teams of multidisciplinary experts, Dr. Tseng integrates the latest research in immunotherapy and clinical trials into her surgical practice to provide the optimal care for patients with breast cancer, melanoma and sarcoma.
During her residency in general surgery she trained as a clinical immunotherapy fellow at the National Cancer Institute under Steven A. Rosenberg, MD, world-renowned expert in the field of immunotherapy for treatment of melanoma, sarcoma and other malignancies. Dr. Tseng received post-graduate fellowship training in complex general surgical oncology at the University of Chicago. Dr. Tseng has longstanding interests in clinical ethics and medical education. She completed a fellowship with the MacLean Center for Clinical Medical Ethics at the University of Chicago, and previously served as a theme issue editor for the American Medical Association's Journal of Ethics. Her research interests include ethical considerations in clinical trials and the use of surrogate decision makers.
Dr. Tseng has contributed several manuscripts, book chapters, peer-reviewed articles and abstract presentations on surgical oncology and breast cancer. Most recently, she published articles on the clinical accuracy of preoperative breast MRI for breast cancer and post-mastectomy radiation therapy and overall survival after neoadjuvant chemotherapy for breast cancer. In addition, she contributed an article on the utilization of axillary surgery for patients with ductal carcinoma in situ to the Annals of Surgical Oncology. Dr. Tseng also participated in the U.S. Sarcoma Collaborative and the Gastric Cancer Standards research project, which was published in the American College of Surgeons, Operative Standards for Cancer Surgery: Volume II.
UChicago Medicine At The Forefront Live: Breast Cancer
We speak with former pro football star Desmond Clark, as well as UChicago Medicine cancer surgeons Dr. Jean Bao and Dr. Jennifer Tseng about breast cancer awareness.