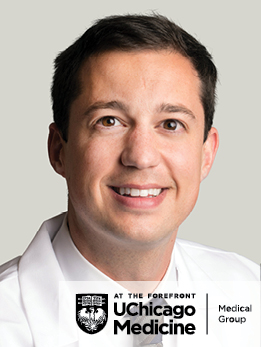 Clinical Associate of Surgery
UChicago Medicine Medical Group is comprised of UCM Care Network Medical Group, Inc. and Primary Healthcare Associates, S.C. UChicago Medicine Medical Group physicians are not employees or agents of The University of Chicago Medical Center, The University of Chicago or UChicago Medicine Ingalls Memorial.
Close
708-798-0200
Jacob Brunner, MD, is a skilled otolaryngologist who specializes in disorders of the ear, nose, and throat. Dr. Brunner diagnoses and treats a wide range of conditions, and remains committed to providing compassionate and personalized care to each patient. His expertise primarily focuses on sinus and nasal disorders, nasal allergies, sleep apnea and snoring, thyroid and parathyroid disorders, ear and hearing disorders, head and neck cancer, throat and voice problems, and salivary gland disorders.
As an avid researcher, Dr. Brunner has published in numerous highly regarded journals, including the American Journal of Rhinology and Allergy, Otolaryngology–Head and Neck Surgery and International Forum of Allergy & Rhinology.