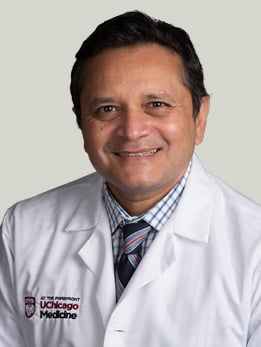 An expert in cardiac electrophysiology, Hemal M. Nayak, MD, provides care for patients with heart rhythm problems (
arrhythmias
). He specializes in
catheter ablation
— a minimally invasive procedure in which high frequency radio waves are used to eliminate abnormal heart rhythms. He also treats
heart failure
, using
pacemakers, defibrillators and other implantable devices
. In addition, Dr. Nayak is an expert on lead management and is one of the few electrophysiologists in Chicago that performs laser lead extraction. He serves as a national trainer and proctor for this complex procedure.
Dr. Nayak has a passion for education. Under his leadership, trainees at the University of Chicago learn about arrhythmia management, risk assessment and sudden cardiac death prevention.
A respected scientist, Dr. Nayak's clinical research focuses on lead management, anticoagulation therapy for atrial fibrillation and cardiac resynchronization therapy. His work has been extensively published in journals such as
Circulation, Heart Rhythm, Journal of Cardiovascular Electrophysiology, American Journal of Cardiology
and
Pacing and Clinical Electrophysiology.
He has been invited nationally to speak on his research and specialty interests and is an active member in the Heart Rhythm Society and the American College of Cardiology.